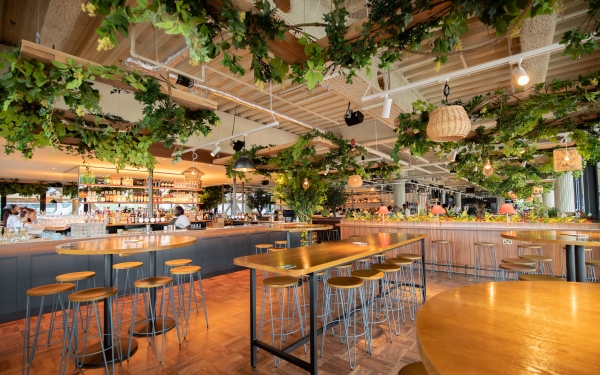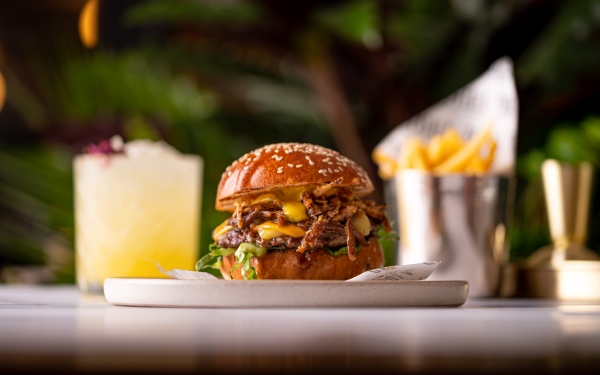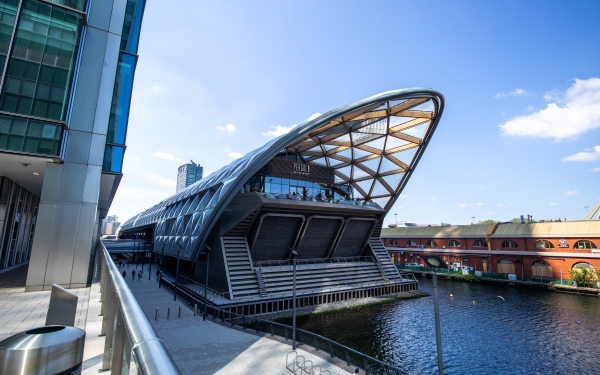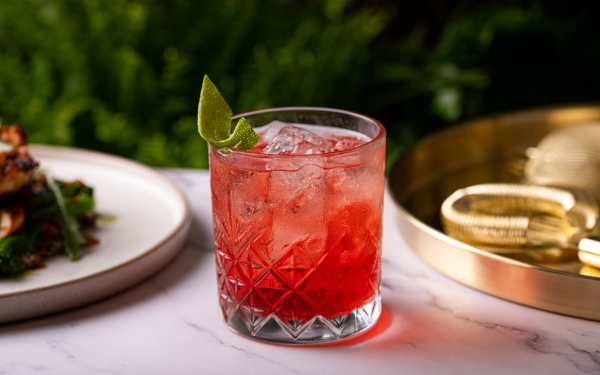 Eating & Drinking
Pergola On The Wharf in Crossrail Place, Now Open
For food and drinks in a beautiful waterside setting, book a table at this new social hotspot – 'grown naturally for good times'
15 June 2021
The plants in Crossrail Place Roof Garden were chosen because of its location – it sits almost exactly on the Meridian Line – with Asian plants to the east and plants such as ferns from the Americas to the west. This lush planting design has influenced its new neighbour too; you can now walk through the Roof Garden straight into Pergola On The Wharf, from one botanical escape to another.
Sunlight streams in through floor-to-ceiling windows to nourish Pergola's flowers, vibrant green foliage, ferns and vines. Known for its beautiful temporary venues across London, this is Incipio Group's first permanent site, looking out over Canary Wharf's north dock with panoramic views of the lively social, residential and commercial district. The location of Pergola On The Wharf has influenced not only its interior but a new menu too, which has been curated by Head of Food Nick Whybourn and themed around Earth, Land and Sea.
Of utmost importance on this menu are provenance, freshness and seasonality: it declares that 'understanding where our food comes from only increases the appreciation we feel for each bite'. Showcasing this are the already popular sharing boards, named after three of London's most famous markets – New Covent Garden, Smithfield and Billingsgate – and championing veggies, meat and fish respectively.
The smartly curated all-day dining menu features everything from blackened chicken (one of the 'Land' dishes) and king prawn tacos (Sea) to British shakshuka for brunch and brownie and Guinness sundae for dessert. The drinks menu also follows the theme of Earth, Land and Sea, created in partnership with London's finest distilleries, breweries and wine merchants, as well as exciting up-and-coming brands, from within the UK wherever possible. Leftovers and by-produce from the kitchen are used within the cocktails as a commendable step in a more sustainable direction. Sample Fisherman's Friend, Orchard Sangria or, for a delicious alcohol-free option, Dusk 'Til Dawn.
Pergola On The Wharf has kept a space within this spacious site to use as a rotating pop-up and its visitors can look forward to visits from top chefs, restaurants outside the UK and drinks brands, among others. Pergola Lates, are planned to see the venue inviting a select group of London DJs, musicians and bands to play from sunset into twilight and on to midnight, with sets curated to create the right mood for the time of day, or night. Cheers!