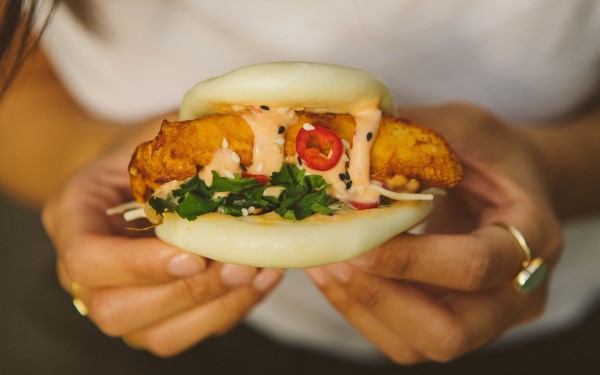 Eating & Drinking
MamaLan: Bringing a taste of China to your lunch break
Reuters Plaza's newest addition is MamaLan, inspired by at-home supper clubs and known for its soft, fluffy bao, more-ish dumplings and authentic bubble tea
19 April 2021
Ning Ma was won over by the concept of the street food kiosks underneath the iconic clocks on Reuters Plaza and so Canary Wharf was chosen as the third outpost of her cult brand specialising in bao, wings and dumplings – conjuring up "the magical flavours" of her childhood. Londoners flocked to the first MamaLan in Brixton Village when it opened ten years ago; Clapham was next, and now Canary Wharf's residents and workers can enjoy MamaLan themselves in its third London location.
Can you tell us about the cultural significance of bao and dumplings and how they can vary?
They both come in loads of different shapes and varieties. The baos that we serve at MamaLan are steamed and open but you can also get closed bao. Historically they were eaten at family gatherings; you make, cook and eat them all together. The baos and dumplings from different parts of China have different styles; I'm from north China and our dumplings are very different to those in, for example, Hong Kong. We use wheat flour for the outside so they are a bit denser, with a hearty filling, whereas in Hong Kong you get a lot of pork or sea-food fillings, rice flour is used and they're steamed.
What's really important in the cooking process when it comes to ensuring an authentic taste?
We boil our dumplings then pan fry them to make sure they are very crispy at the bottom and soft on top, so there's the contrast in texture – that's something we pay a lot of attention to. For the bao, we make sure they are steamed just right – fluffy but not soggy. Just enough moisture. We have our own in-house sauces as they really make a dish and bring out the flavours to another level. Our chilli oil – made with onions, garlic, ginger, chilli, chilli flakes, soya and sesame – is something amazing!
Where does bubble tea fit into the story?
I have spent more than 20 years in the UK – I moved here in 1998 – and I remember going back to China a few years ago and seeing bubble tea shops everywhere. My friends always got one when we went out together and gradually I got into it. The more I have it, the more I love the tapioca texture. I noticed that a lot of the 'grab and go' places didn't do drinks sales. I thought: how can we expand our service so that customers don't have to go elsewhere for drinks after coming to us for food?
What childhood memories inspire your cooking?
My granddad started his little market stall in Beijing, on the back of a bicycle, in the 1970s. His dad had a bao shop in the 40s but it closed during the revolution when people weren't allowed to trade. Once people had more freedom, my granddad restarted the family business – he's a charmer! My mum and aunties all helped him make baos, wings or dumplings – whatever he was selling that day. When I was very young I'd go too – it was fun. A family affair. When I came to look at locations in Canary Wharf, the kiosks reminded me a little bit of that – I felt at home.
How did you come up with the idea for MamaLan?
In 2009 my mum and I were watching TV and Jamie Oliver was doing a programme which featured the concept of underground restaurants in South America – when someone cooks in their own home and people just pay what they think the food is worth. A cross between a restaurant and dinner party. We thought it was cool and interesting, and decided to do something like that. We listed ourselves on a supper club website and people started to book. It was an amazing time, and a nice bonding experience. I quit my job after we'd been doing it for a year to do it full-time. The site in Brixton Village came up and I loved it. A few months later we had a spot and that's how it all started.