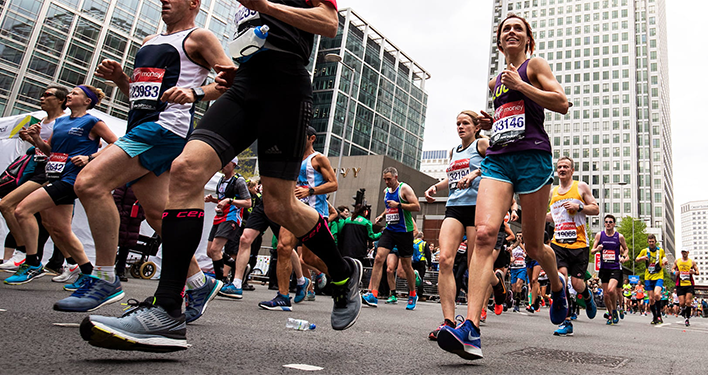 What's On
Race and recovery: prepare for the London Marathon in Canary Wharf
For those who have never visited, you're in for a treat.
27 March 2023
If you've spent time in the city around the London Marathon in the past you won't forget the buzz that the annual race brings, as 50,000 runners and thousands more spectators line the streets in a rousing display of human effort, cheer and goodwill. For those who have never visited, you're in for a treat.
What you might think is just a running event, is one of the most rousing, inspiring community occasions of the year for those participating and those watching, whether you have a loved one competing or not. Of course, it's not just the event itself that makes the London Marathon such a special occasion – there's all the training and recovery to get involved with as well.
For those looking forward to this year's event on 23rd April, here's where to work out, wind down and watch in Canary Wharf.
Where to work out: training for the London Marathon
It's recommended that you take between 12 and 24 weeks to train for a marathon, depending on your individual fitness, and Canary Wharf offers plenty of inspiration and opportunities to workout inside and out. For example, you can jog along the Thames Path in a five-mile loop around the perimeter of the Docklands. To really get the blood pumping however, these are the expert fitness facilities to help you get match fit:
Turbocharge your training at Barry's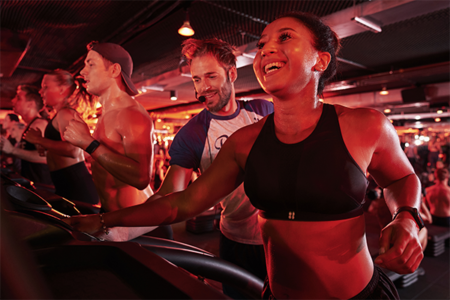 Barry's is the bootcamp workout that can turbocharge your marathon time with workouts straight from LA. Champions of treadmill classes, their particular brand of exercise pushes you to the limit. While the class-based experience gives you the motivating boost of group running, they also employ different elements including plyometrics to build muscle power, decreasing your overall training amount and improving your form.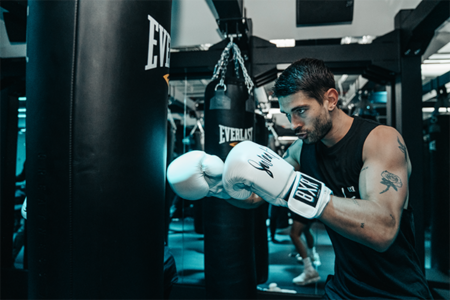 Sweat by BXR is a flexible, class-based training experience for those with ambitious goals but limited time. Building the core pillars of physical fitness – strength and conditioning, cardiovascular exercise and skills-development, it is state-of-the-art training developed in collaboration with pro-boxers, sports professionals, osteopaths and physios. As they put it: 'train like an athlete.'
World class workouts at Third Space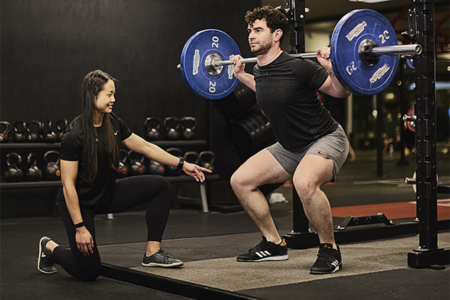 Know what you want to do, just need the best space to do it in? Third Space Canary Wharf is Europe's largest luxury health club, complete with 100,000 square feet and three floors of training space. Sweat it out in classes and on the treadmill, building strength and fitness to get marathon ready. Then, recover in their spa for the ultimate wellness experience… more on that in a moment.
Get the gear: performance-boosting fitness fashion
You might think that what you wear to run a marathon is all about appearances, but it's also about performance. Lowering wind resistance, reducing chafing and blisters, maintaining a steading body temperature, supporting your muscles and joints, keeping your body in the correct position and reducing fatigue – here's where to get the gear.
These shoes were made for marathons: ASICS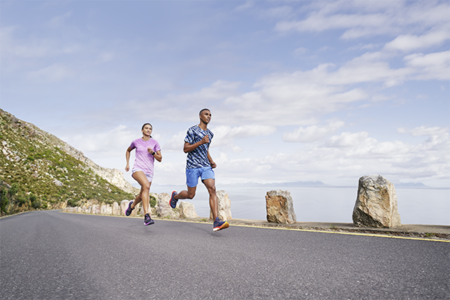 Footwear brand, ASICS, has built its name on being one of the premier running shoe companies thanks to their neutral cushioning and their curved or semi-curved shape, designed to flow with your gait cycle. Comfortable and supportive, whether you're walking or running you want footwear that's fit for purpose come race day.
PS Don't forget to wear them in beforehand!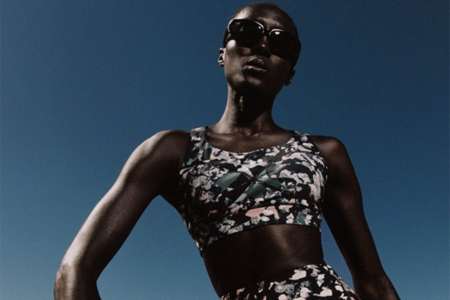 The pioneers of aspirational and technically authoritative women's fitness clothing, Sweaty Betty might be a fashion statement in some circles, but for runners it's also about performance. Their clothing is designed to reduce injury and anxiety, help you get the most out of your run, and feel great doing it, whether you opt for compression leggings that help improve running economy or a sports bra for maximum comfort.
Elevated experience: lululemon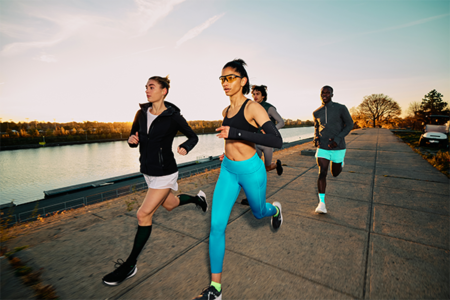 The Vancouver-based company has made its name around the world as an experiential brand, seeking to elevate the world by unleashing the potential in every one of us. Lofty goals for your sports bra, but who doesn't want to look fit and fabulous running 26.219 miles? They blend function and fashion using technical high-performance fabrics, for streamlined support and weightless comfort.
Why watch in Canary Wharf
With all the prep work done, race day beckons. For those taking part, we wish you luck – enjoy the journey. For those watching loved ones or simply turning up to be part of the experience, Canary Wharf is one of the best places along the route to cheer those brave souls on. Starting in Greenwich, the course circles Canary Wharf and runs along the Thames, past the Tower of London through Trafalgar Square and onto The Mall, where runners finish in front of Buckingham Palace. That places Canary Wharf at around mile 19 – just the moment where a roaring cheer will provide a much-needed boost for the final stretch. It's a great place to watch because there's:
Plenty of places to eat and drink
It offers great views of the race
It's exactly the point where runners need your support
It's a great atmosphere
Your loved ones can come and meet you afterwards to refuel in style
Refuel: where to eat and drink post-run
Whether it's a pre-run pastry or post-run pasta, food and drink are an essential part of marathon day for both runners and spectators. Here are some of our top recommendations for any time of the day… word to the wise though – remember to book in advance!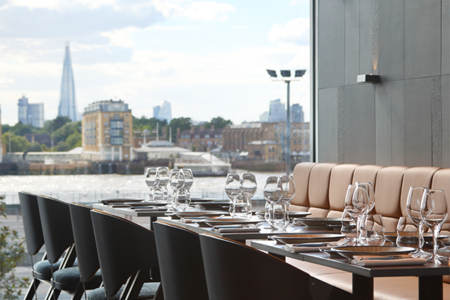 In the 226-metre high, diamond-shaped Newfoundland Quay tower, M Canary Wharf is the perfect place for a celebratory meal on the banks of both the river Thames and waterways of Canary Wharf. Book for brunch, lunch, or dinner in the impressive international restaurant, or for lighter bits throughout the day, grab a breakfast, pastries, sandwiches, salads, cakes, tea, coffee and cold drinks at their La Petite M Café.
Drinks with a view: 640 East
It's thirsty work doing all that cheering, so remember to hydrate. For drinks with a view of the runners, head to 640 East, where you can top up on everything from juices to coffees, cocktails to craft beers. Sustenance is provided whether you fancy breakfast pots, pastries, Biltong, or chilli crackers.
Post-run Sunday lunch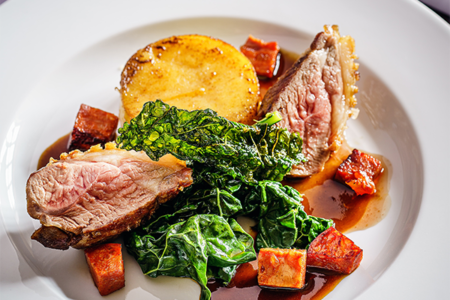 Nothing helps you refuel quite like a Sunday lunch and for many runners it might just be the thought that gets them over the finish line. Book a post-run pick-me-up at Humble Grape for wine lovers, Hawksmoor Wood Wharf for award-winning roast beef, No.35 Mackenzie Walk for sustainable fare, or Pergola on the Wharf for the best roast potatoes.
Food on the go: watching the London Marathon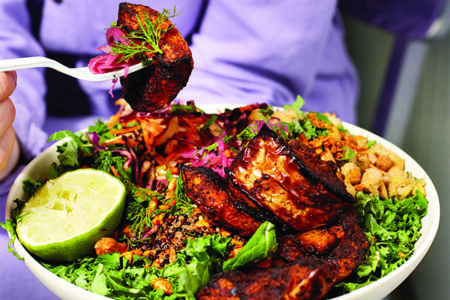 Don't tell the runners this, but watching the London Marathon is an exercise in its own right, so you need sustenance along the way. For food on the go, head to atis for sustainably sourced bowl food that's good for mind, body and soul; Ca'puccino for authentic Italian coffee and cuisine; Island Poké for a healthy Hawaiian takeaway; Neat Burger for plant-based feel-good and fun food; or Garbanzos for the best falafel in town.
Where to recover after the marathon
Recovery is a crucial part of the marathon experience, helping you to head into work on Monday morning without having to ask someone else to tie your shoelaces. From spa treatments to sweating it out in the sauna, here's where you need to go.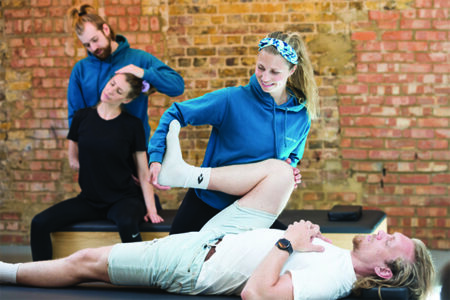 You don't need us to tell you that it's important to stretch after doing a marathon. Don't let muscles get cold – head straight to a professional for assisted stretching at Stretch Inc. They will help reduce your risk of injury, improve flexibility and generally help your body feel it's best. You'll be ready to run again in no time!
Relax and unwind in style after all that running by booking a massage dedicated to sports rehabilitation at Third Space Spa before you head home. Your body will thank you in the morning!
Feeling the ache already? Visit Freedom Clinics whether you want to see a sports physician, osteopath, physio, chiropractor, or have a sports massage. The multi-disciplinary clinic has a range of musculoskeletal services available – maybe book in preemptively, just in case.
With everything you need for sports recovery all in one place, Pure Sports Medicine is home to doctors and clinicians who have worked with world-class athletes. Taking a 360-degree approach to getting you back on your feet, it's the one-stop-shop for post-run recovery.
Looking for more ways to enjoy the London Marathon in Canary Wharf? Check out the full range of shops, bars and restaurants along the route.