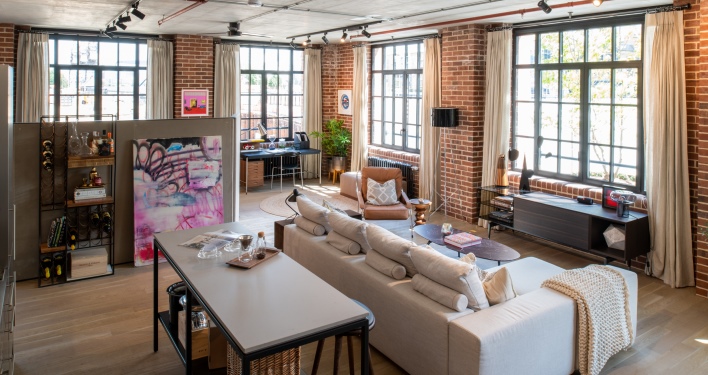 Residential
London Loft Style Living – A New Way To Live
15 December 2022
The must-have among apartments, loft style apartments are undeniably chic, intrinsically cool, and oh-so-desirable. Thanks to architectural features you won't find in other types of apartments and layouts that offer you something of a blank canvas, they're at once classically sophisticated and refreshingly laid-back.
Not to mention you will have the opportunity to observe 23 acres of more residential apartments, offices, and retail space as Wood Wharf is currently being constructed.
If you're looking for New York loft style living in London, find out why Canary Wharf's new 8 Harbord Square could be the perfect place to call home.
What Is Loft Style Living?
For the uninitiated, a loft technically is the uppermost storey directly under the roof of a building. Loft style apartments, however, aren't always on the top floor. Instead, the term refers to apartments that are adaptable, large open spaces converted for use as residences.
Most apartments that offer loft living are in buildings that originally were used for commercial or industrial purposes. Many of those buildings' original features, such as brick walls and exposed beams and pipes, are incorporated into the living spaces, giving them a trendy industrial aesthetic. 8 Harbord Square has taken inspiration from its industrial heritage, it's open plan design offers a contemporary space that will give residents the perfect canvas to make their mark on. 
Discover Loft Living In London
You don't need to look far to find some of the best loft living in London. Canary Wharf's 8 Harbord Square combines the capital's dockside heritage with fresh, unique New York loft style living in a symphony of contemporary design. Each of the industrial style building's 82 distinctive open plan residences gives you limitless flexibility to create a home that reflects your personality and is tailored to your lifestyle.
Gramercy Lofts at 8 Harbord Square
8 Harbord Square's Gramercy lofts are ideal for the curious, creative individual. Bathed in natural light from the Crittall-style windows, these 1,035 sq ft apartments feature industrial concrete ceilings, exposed brick walls, and stainless-steel countertops. With no interior walls to restrict your design plans, you really can make the space your own.
Prospect Lofts at 8 Harbord Square
The 809 sq ft Prospect lofts at 8 Harbord Square are the epitome of dynamic living. Their design inspiration is drawn from the Docklands' old industrial warehouses and features exposed brick walls, a modern linear kitchen with stainless-steel countertops and integrated appliances, and concrete ceilings. Each apartment's three large Crittall-style windows provide generous natural light during the day and an incredible ambience at night. These generous spaces are perfect if you're looking for loft living in London that evolves with you.
Why Lofts Are A Good Choice
Still wondering if a loft style apartment is the right choice for you? Take a closer look at the benefits of loft living.
The open layout of loft apartments is like a blank canvas on which you can take your design style to new heights. Curate and arrange art, décor, and furniture to reflect who you are, to suit your preferences, and to meet your unique lifestyle needs.
The industrial-style details typical of lofts' architecture is one of those apartments' delightful characteristics. While not common in many London homes, exposed brick walls, concrete ceilings, and other elements give the space a laid-back yet chic feel.
The liberating sense of space in loft style apartments is not due only to the lack of interior walls. The high ceilings also have something to do with it. Thanks to them, even smaller lofts feel comfortably spacious and have immense potential when it comes to interior design and decorating.
Abundant natural light is one of the hallmarks of loft living. The large windows characteristic of lofts, such as the black powder-coated Crittall-style windows of 8 Harbord Square, let in a huge amount of natural light for a bright and airy atmosphere throughout the space.
How To Decorate A Loft-Style Apartment
With so many distinct differences between these spaces and standard, purpose-built apartments, you might be wondering how to decorate a loft style apartment. The following styling tips offer a glimpse at some of the design possibilities.
Take an Eclectic Approach to Style
Lofts bring together industrial, contemporary, and classic architectural design, allowing you to take an eclectic approach to style. You have free rein to combine your favourite design styles in uniquely personal ways that follow or break the rules.
Surround Yourself With Artwork
The high exposed brick walls, generous space, and abundant natural light of New York style loft apartments create the perfect space in which to surround yourself with artwork. Thanks to these elements, you could cover the walls with art knowing that it won't be overwhelming, unlike in other residential options.
The architectural features of loft apartments create acoustics that cause sound to carry throughout the space. Use plenty of textiles to soften the space and the sounds within it. Upholstered and wood furnishings, cushions, rugs, and throws offer a plethora of loft style decorating options.
Use Furniture As Architecture
The lack of interior walls is no obstacle to dedicated, more intimate spaces in loft style apartments. Use furniture such as bookcases, display cases, or entertainment units to create defined areas within your apartment.
With Canary Wharf's 8 Harbord Square, loft living in London is all the more desirable. Find your home with us.