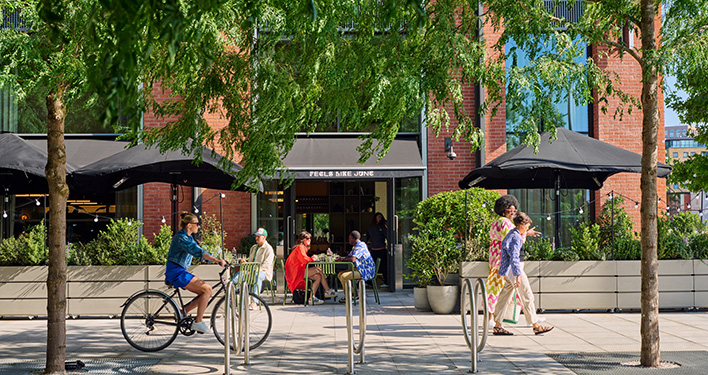 Residential
Living the Wood Wharf Lifestyle in Canary Wharf
Set within the Canary Wharf estate, Wood Wharf is 23-acres of modern luxury living in the heart of one of London's most dynamic communities.
18 August 2023
Welcoming residents and visitors alike, it is brimming with architecturally inspired homes, shops and offices, all existing in harmony in a picturesque waterside location by the docks, complete with boardwalks, floating pavilions and green spaces. Within this unique space, there's a wealth of activities and events taking place for you to enjoy. Here are some of our top recommendations.
Top things happening around Wood Wharf in Canary Wharf
Activities in and around Wood Wharf in Canary Wharf range from family fun to team-building entertainment, weekend events to sports and fitness opportunities that get you up close and personal with nature. It's all part of the Canary Wharf lifestyle!
You may already be aware that Canary Wharf is basically an outdoor art gallery, with more than 100 artworks around the Estate, all of which are free to visit. Giving you the chance to combine a walk, jog or run with artistic inspiration, we have prepared 1km, 3km and 5km routes to follow that take you on a tour of the sculptures and installations situated in and around the Estate. In addition, there's our perennial children's art trail for little legs to explore!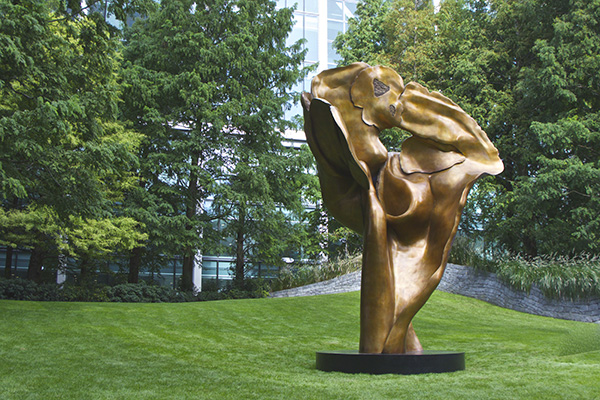 Discover the exhilarating world of open water swimming at Canary Wharf! Dive into the freedom of the open waters and experience a unique and invigorating way to connect with nature. Our open water swimming sessions offer a refreshing escape from the ordinary pool routine, allowing you to explore the beauty of the Thames in a safe and supervised environment – in collaboration with Love Open Water, Middle Dock is open for swimming in front of the iconic One Canada Square.
Whether you're a seasoned swimmer or a beginner looking to challenge yourself, open water swimming provides a sense of adventure and achievement unlike anything else. Take the plunge and dive into the extraordinary world of open water swimming at Canary Wharf – it's an unforgettable experience waiting for you!

For those in the mood for rhythm and blues, we've got a treat in store for you. The Boathouse London and Ninety One Living Room have teamed up to deliver a series of intimate live jazz shows every Thursday at 7pm in speakeasy style with a Parisian twist. It's a great opportunity to discover new and upcoming artists.
Whether you're a seasoned pro or a complete beginner, miniature golf has taken on new inspiration, with a vibrant installation from artists Craig Redman & Karl Maier. It's bold, bright and brilliant fun on this one-of-a-kind course – plus, it's free to play!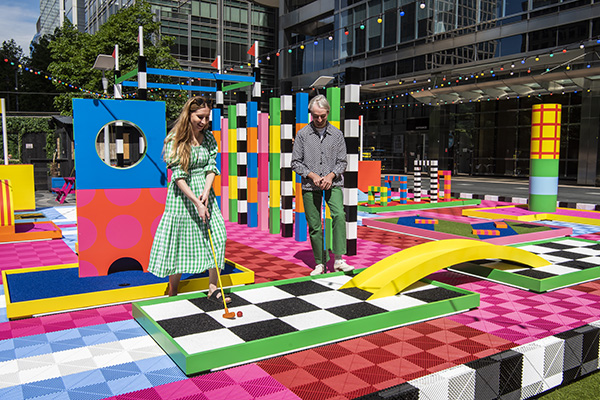 New to Wood Wharf in Canary Wharf
It's not only events that are causing excitement in and around Wood Wharf, but new shops, bars, restaurants, and experiences that are joining the growing community. Here are some of the latest additions to the Wharf.
New Restaurants and Bars in Canary Wharf
We all love discovering new places to eat and drink, and we're spoilt for choice. In addition to our existing favourites, there are some fabulous new places to try. Amongst them are:
• Blacklock, known for its modern twist on the classic chophouse.
• Brick Lane Bagel Co, serving delicious on-the-go bagels.
• The Cocktail Club – need we say more?
• Dishoom for Bombay comfort food.
• Fish Game for sustainable British seafood.
• Oysteria – the ultimate oyster bar experience.
• Pho for fresh, healthy, great value Vietnamese food.
• mallow is a 100% plant-based restaurant, ready to transform vegan food.
• Patty&Bun serve delicious burgers and a variety of sides ready to quench your cravings.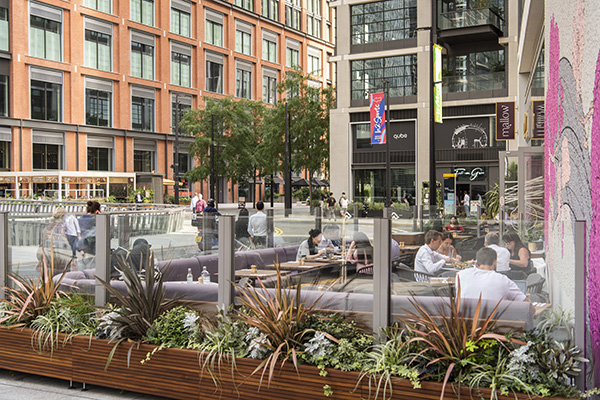 New Shops in Canary Wharf
From retail therapy to life's necessities, Canary Wharf has fast become one of best shopping locations in London, and it's only getting better. New on the scene is:
• Skincare gurus, Aesop
• Unisex skate and streetwear vendors, Circle Collective
• The ultra-convenient Morrisons Daily
• Super stylish Russell & Bromley
• Foodie favourite, Tian Tian Market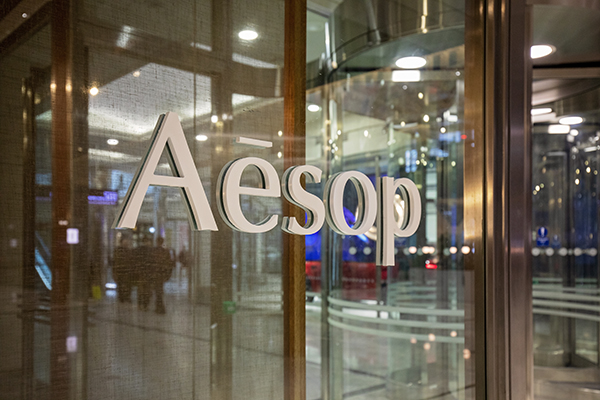 New Experiences in Canary Wharf
Canary Wharf is not just about what you can get but what you can experience. From massages to car hire, gyms to beauty treatments, it's got everything in one place, with even more arriving each day. Read more about some new additions below:
• Randox Health is here to help you take care of your health with simple lifestyle measurements and changes.
• Become a podcaster or DJ at Qube, which has 24 premium studios.
• Rent a car quickly and easily at SIXT.
• Combine work and leisure at the new lifestyle hotel, Tribe Canary Wharf.
Top Benefits of Living in Wood Wharf
Modern life isn't about separating work and leisure, but having a lifestyle that you enjoy every day. That's what the Canary Wharf lifestyle and living in Wood Wharf is all about – bringing work, leisure, health and wellbeing into one beautiful, dynamic urban environment that nurtures the natural ecosystem alongside human, mental and physical health. There are lots of bonuses and benefits to living in Wood Wharf, from the convenience of transport on the DLR, Jubilee line or the Elizabeth line, to multiple green spaces, waterside locations, exceptional architecture and a wealth of amenities and entertainment, all within a few minutes' walk of the luxury apartment buildings. If you're fortunate enough to work in Canary Wharf as well, then you really never need to leave!