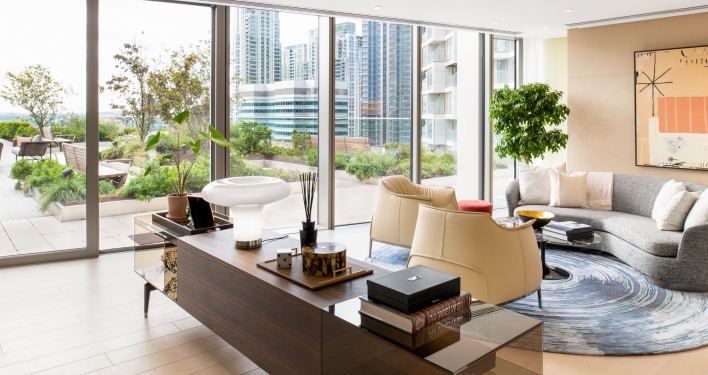 Living
Lifestyle is key for new Canary Wharf residents Vincent and Leticia
3 June 2022
Vincent and Leticia Cintamani had viewed more than 50 apartments before finding their new home at 10 Park Drive in Canary Wharf.
Their search was hampered by Covid-19 restrictions, whilst the areas they visited didn't feel quite right.
But having found 10 Park Drive, the couple are now loving life in their new neighbourhood.
"We had been searching for a few months and viewed so many apartments. There were still Covid-19 restrictions and although we visited lots of different areas, none of them felt right to us. We wanted something new and somewhere that would be more of an experience." explains Leticia.
Designed by world-renowned architectural practice Stanton Williams, 10 Park Drive was the first of the new residential apartment buildings to be built on the Canary Wharf Estate. It sits adjacent to South Dock, linked to the water by beautifully landscaped gardens and parks. The building's 42 storeys of studios, one-bedroom, two-bedroom and three-bedroom apartments offer extraordinary views of the city and the river.
After viewing their apartment in 10 Park Drive and exploring the surrounding area, the couple found themselves attracted to the safety of Canary Wharf and the peaceful lifestyle that it offers. Vincent says:
"Canary Wharf is one of the safest places in London and that was a big selling point to us. We love how quiet our apartment is – we never hear anything at night and it's just so peaceful. We have a 24-hour concierge which makes it even more secure. The transport options were another big factor – we liked that we could take the Jubilee or Elizabeth line to central London in minutes, which is so convenient."
10 Park Drive is located in the heart of Wood Wharf, a new 23-acre neighbourhood within the wider Estate. Once complete, Wood Wharf will comprise up to 3,600 homes, 350,000 sq. ft. of shops and restaurants, 2 million sq. ft. of office space, a new NHS doctor's surgery and two-form primary school. New green spaces include Harbour Quay Gardens and Harbord Square Park.
"We love the view from our apartment which is incredible. The facilities throughout the building are really great too – communal areas like the Sky Garden on the 13th floor are lovely places to hang out and meet people in the summer. For groceries, Waitrose and M&S are five minutes away, and there are so many other shops across Canary Wharf." Vincent adds.
Wood Wharf is home to a number of the Estate's best restaurants, and since moving, the couple have enjoyed watching more restaurants and shops open around them. Leticia says: "There are so many restaurants to try right on our doorstep, like Hawksmoor and Emilia's Crafted Pasta. At the weekend we love just exploring Canary Wharf – there's always something new; be that a new piece of art or a new place to eat. It feels like the Estate is changing on a weekly basis."
Prices at 10 Park Drive start from £715,000. For more information or to book a private tour, contact residential.sales@canarywharf.com or visit www.residential.canarywharf.com