What's On
Let There Be Light
Canary Wharf's award-winning light show returns this January to the Estate, with brand new installations and classic favourites.
15 January 2020
Winter Lights will return in January for a sixth year, transforming Canary Wharf with over 25 spectacular installations. The 2019 event has just been voted the Best Creative Lighting Event at the prestigious Darc Awards having won in 2017 too; this year's event will showcase light art and interactive installations by some of the most innovative light artists working across the globe today, featuring some first-time displays and some returning favourites.
Winter Lights 2020 will run for 10 days from Thursday 16 January to Saturday 25 January. This year's festival has extended opening hours, beginning at 4pm, and runs over two weekends, giving everyone lots of opportunities to experience one of London's stand-out calendar events.
In a London first, Joanie Lemercier will be presenting Constellations, a stunning light show on the dock which projects 3D like visuals on a giant water screen. The artist takes the audience on a journey from the heart of a black hole deep into space, travelling through a galaxy of planets and stars.
'Some of our favourite installations from previous

years will be returning'
Some of our favourite installations from previous years will be returning, such as Luma Paint Light Graffiti by Julius Popp, and Lichtfaktor and Bomber Graffiti's Light Graffiti workshops. These will be side by side brand new UK-first pieces, such as the Czech Republic's Sky on Earth by UAll Studios which creates giant, touchable clouds from foam and newly commissioned artwork Lactolight – an amazing display of moving light created with hundreds of milk bottles. The entire exhibition hosts both pieces that can be admired from afar, as well as those that will allow people to get up close and interact. Debuting from New Zealand and twisting throughout Jubilee Park is Squiggle by Angus Muir. The artwork is born from 450 metres of digital neon tubing and ventures through one of Canary Wharf's most tranquil areas. The sea of twists and turns allows visitors to interact with the installation by viewing it from different angles – as an abstract reflection of the multicultural world we live in.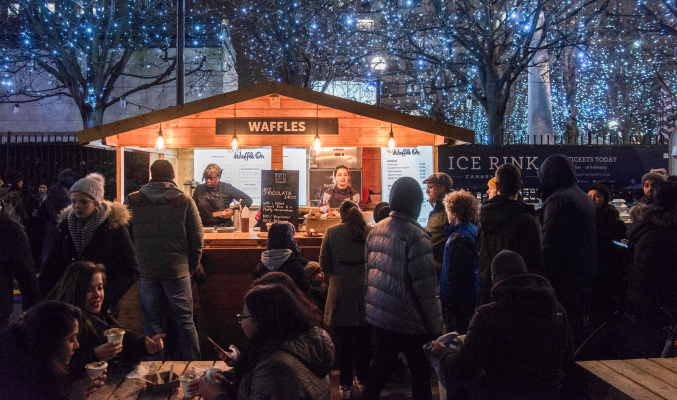 Be sure to make time on your tour to sample delicious dishes and hot drinks from the many street food trucks. Choose from freshly cooked sourdough pizzas, gourmet potato rosti or crepes then warm up by toasting your own marshmallows on an open fire.
You can also explore a variety of options for dining out including cuisines from around the world and some of the best cocktails in town in more than 130 cafés, bars and restaurants (visit canarywharf.com/eating-drinking). There are also over 120 stores across five malls ranging from small boutiques to designer labels, spanning beauty, fashion, fitness, homeware and more (visit canarywharf.com/shopping).
The Winter Lights festival is free to visit between 4pm and 10pm each evening and is the perfect way to spend a dark January evening. Simply download a map from the website to help guide you round the festival or pick one up from one of the event stewards on arrival at Canary Wharf.
Please note the festival can get extremely busy at weekends so where possible we advise visitors to come midweek or avoid our busiest time between 6pm and 8pm each evening. For more tips and all the information you will need to plan your visit please head to the Winter Lights pages at canarywharf.com.
* Text courtesy of Canary Wharf Magazine 
* Text as originally appeared in Canary Wharf Magazine