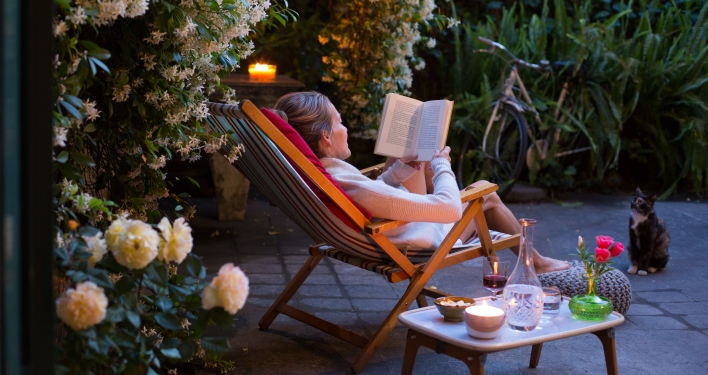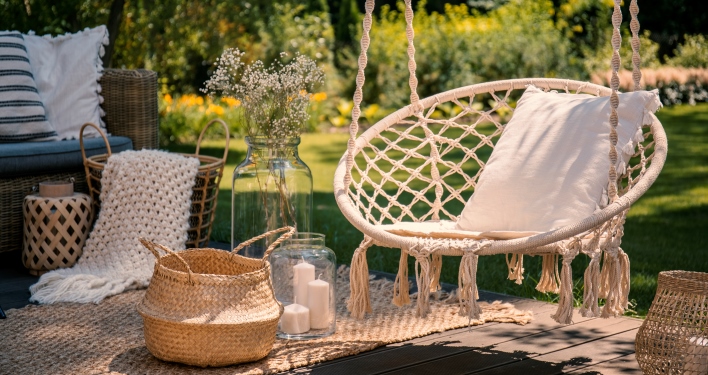 Living
Inspiring Design Ideas For Your Terrace This Summer
Few things are more desirable to city dwellers than a gorgeous outdoor space. Use these fabulous terrace design ideas to give your balcony a fresh look.
15 July 2022
A terrace such as those at One Park Drive, Canary Wharf, can make a world of difference to your quality of life at home in London. We've put together a few inspiring design ideas that you can use to transform your terrace into an inviting, functional and stylish outdoor space this summer.   
Transform your terrace by taking your cue from these tips.
Pick A Great Colour Scheme
Whether you want to transform your terrace into an Edenic garden or a swanky al fresco home bar, a great colour scheme is necessary. The scheme you choose for your terrace decoration ideas, whether this be flowers, furniture, or accessories, should be coherent, as this will add to the atmosphere and give greater structure to the space.
When selecting a colour scheme, remember that impactful bright colours can make smaller surfaces appear larger, while dark colours can make surfaces appear smaller. If you want to make a statement, consider using bold colours such as blue, red, and/or yellow. Choose green for areas in which you want to create a sense of calmness and tranquillity. Think carefully about colour combinations. If a sense of harmony is important to you, opt for a specific colour family or colour gradient.
Install Functional And Ambient Lighting
Good lighting is an essential aspect of apartment terrace decor. Functional lighting is important if you want to use your terrace for activities that require sufficient light, such as relaxing with a good book or a crossword puzzle.
Ambient lighting is best if you want to use your terrace for spending time with someone special or socialising with family and friends, as it really can help to set the mood. Create a summery atmosphere by grouping lanterns in a corner, winding fairy lights around the railings or stringing them up to create a twinkling canopy. Place hanging lights on stakes in large flowerpots or planters. For a more romantic atmosphere, place a few pillar candles in decorative holders on your terrace.
Bring Life To Your Terrace With Plants
Bring more colour, fragrance, and texture, as well as a sense of life and peacefulness to your terrace with plants in pots, hanging planters, and wall racks. Place semi-shade and shade-loving flowering plants such as fuchsias in shadowy corners, and sun-loving local and Mediterranean plants like daisies, petunias, geraniums, lavender, rosemary, sage, and thyme in sunny spots.
If you want a more monochromatic look for your terrace design idea, green plants with showy foliage, such as delicious monsters, elephant ears, snake plants, and echeverias and other succulents are ideal. You'll need somewhere handy to store your garden implements, so it might be worth considering a beautiful storage unit to place in one corner of your terrace.
Choose Statement Furniture
Furniture is an integral part of your terrace space, so make sure you choose yours wisely. The furniture you pick should be comfortable, functional, and make a statement.
A traditional bistro set is a perfect choice if you want to enjoy morning coffees, evening meals, and weekend brunches on your terrace. If you plan to use your terrace as a social space where you can spend time with your friends, opt for sofas, a few Ottoman chairs, and a few small tables. You might even want to include a small home bar counter with storage space for glasses, beverages, and equipment such as cocktail shakers. An L-shaped sofa is also a great way to save space while offering guests a comfortable place to sit.
If you and your significant other hope to use the terrace as a space to relax and unwind, deck chairs, sun beds, or chaise lounges are all great options. Whatever your preferences, make sure the furniture you choose can withstand the elements.
Let these terrace design ideas inspire you to transform your outdoor space this summer.