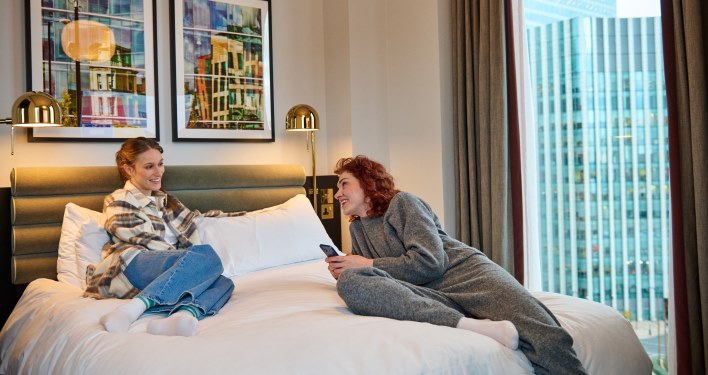 Eating & Drinking
How to spend 48 hours in Canary Wharf
6 January 2023
If you have a weekend, or any 48-hour stretch, to spend exploring Canary Wharf – one of the most diverse and exciting parts of London – what would you do with it? From staying at the new TRIBE hotel Canary Wharf to go-karting in Cabot Square, here's our dawn-til-dusk guide to things to do in Canary Wharf. 
Canary Wharf caffeine fix
Start your Canary Wharf weekend by waking up to a view of the city, in a room filled with natural light, at the achingly modern TRIBE Canary Wharf. Having only opened in August 2022, this is a place that's made for city slickers moving at pace. With places to go and people to see, head to the hotel's 24-hour Grab & Go counter for a barista coffee en route to brunch.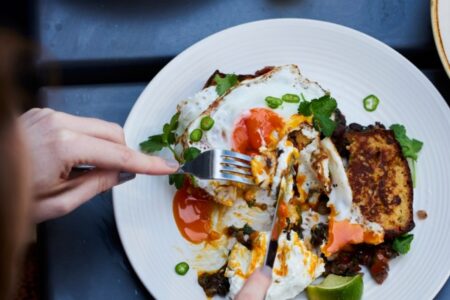 Amongst the best things to do in Canary Wharf this weekend, is explore its food and drink offerings. The Caravan brand spans London as a whole and has a reputation for blending its unique style with the specifics of each location. Caravan Canary Wharf is no exception, with its pared back interiors, relaxed vibe and flavourful, travel-inspired food, it's the perfect spot for brunch. 
A convivial space to meet friends or simply absorb the vibe, it sets you up for the day. We're partial to the vanilla pancakes with lemon curd cream cheese, bay leaf and lemongrass poached pears, pumpkin seeds and sumac praline, but you might be in more of a fried jalapeno cornbread or chorizo and potato hash kind of mood.
Distance from TRIBE Canary Wharf: 0.3 miles (seven-minute walk)
Morning motivation: from go-karting to spa-ing
There's an abundance of fun things to do in Canary Wharf at the weekend, whether you're more of a thrill seeker or spa-goer, and with 48-hours to do as you please, there's no reason you can't experience it all. Practically on the doorstep of your hotel, here are a few favourites to work up an appetite before lunch: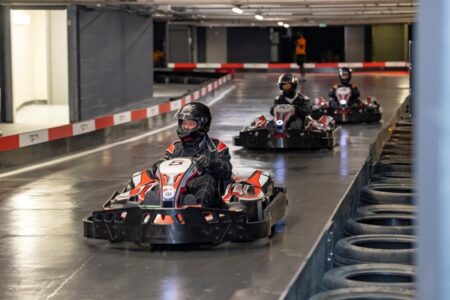 Hailed as the UK's fastest indoor go karting track, Capital Karts takes the whole concept of racing to new heights. Whether it's a family weekend or an adult-only urban escape, this is the place for adrenaline junkies to let loose on their Grand Prix aspirations. Open every day and conveniently located on Cabot Square, adults go from £28.50 per person – ready, steady, go!
Distance from TRIBE Canary Wharf: 0.5 miles (ten-minute walk)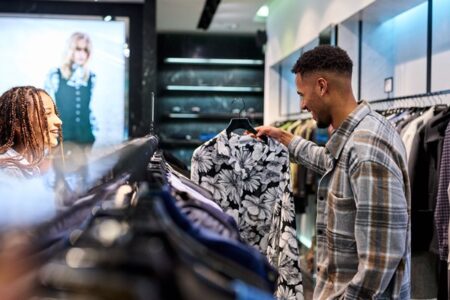 Retail therapy is always a good way to add to the weekend feel-good-factor, and of all the places to visit in Canary Wharf, the shops are excellent. Brands range from The Kooples, Maje and Sandro to Zara, Paul Smith and Ted Baker, to name a few. From fashion to homeware, jewellery to gifts, the central shopping district is spread across Canada Place, Jubilee Place and Cabot Place, all of which connect to one another within a one-mile radius. The walk between all three will take 15-20 minutes, starting at Cabot Square, and it's a pleasant stroll through this elegantly designed part of London.
Distance from TRIBE Canary Wharf: 0.5 miles (10-minute walk)
R&R at spas and salons
Retail therapy notwithstanding, there's little substitute for actual therapy, and this is where the spas and salons in Canary Wharf come in. Pamper, preen and prep for the rest of your day from skin-boosting facials to blow dries: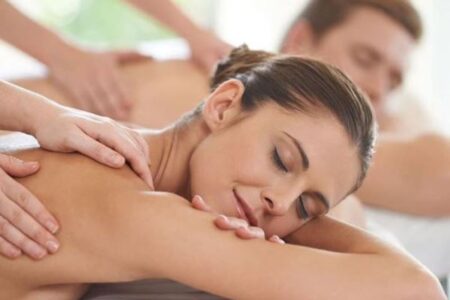 Third Space is very much known for its gym, which is a fantastic place to burn off excess energy. However, it's also home to a medical centre and spa. Swim in the 23-metre pool, soak up the heat in the sauna and steam room and then take time to enjoy one of their treatments. Favourites include their HydroPeptide facial, giving skin a healthy glow and visible lift. Then head to the changing rooms where there's everything you need to head back out into the world, from Cowshed toiletries to hair dryers and GHDs.
Distance from TRIBE Canary Wharf: 0.3 miles (seven-minute walk)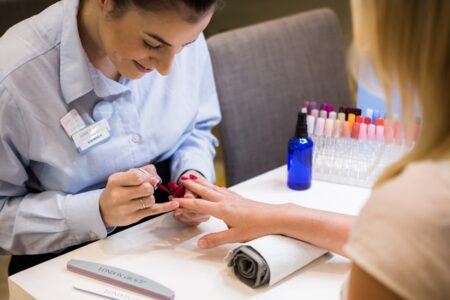 Nails, coffee and cocktails are the headline features of London Grace, an award-winning nail salon with a twist that's perfect for the buzzy weekend vibe. They're all about vegan, no-nasties nail care products and a social beauty experience. Bring a friend or simply soak up the atmosphere as you prep and polish before the rest of the day.
Distance from TRIBE Canary Wharf: 0.3 miles (seven-minute walk)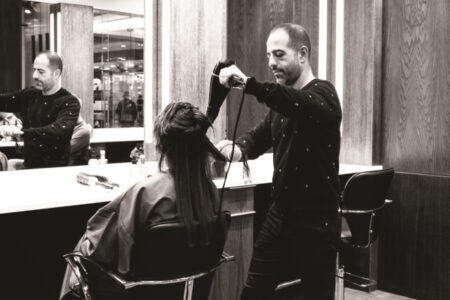 For hairdressing, few can beat Jon Hala, an expert in sexy, sophisticated hair that's always in keeping with current trends. Jon himself has a background spanning movies and fashion, with a celebrity client roster to envy. He brings his particular brand of magic to his eponymous salon, where you can get that touch of silver screen glamour all for yourself.
Distance from TRIBE Canary Wharf: 0.5 miles (11-minute walk)
Lunch at the best restaurants in Canary Wharf
Next up, it's time for lunch and amongst the best restaurants in Canary Wharf are The Ivy in the Park and Six by Nico.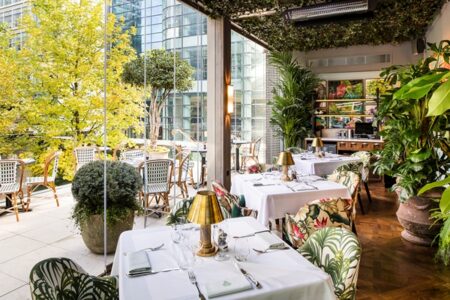 As the name might suggest, The Ivy in the Park is part of the famous Ivy brand, known for its Art Deco style, made modern. At the same time, this particular location makes it one of the coveted Canary Wharf restaurants with a view. In one of Canary Wharf's most sustainable buildings, it's spread across two floors including outdoor terraces with garden views. The menu is an all-day feast of modern British classics and Asian-inspired fare, including vegan and vegetarian dishes.
Distance from TRIBE Canary Wharf: 0.3 miles (seven-minute walk)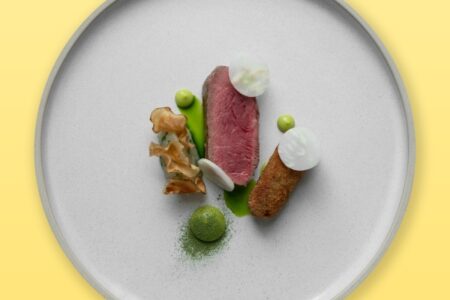 Six by Nico takes you on a journey with its food and wine. An experience as much as it is a meal, the six-course tasting menu and the option for matching wines changes every six weeks to reflect a new and exciting theme. Each course is named and inspired by an element of the theme. Past themes have included Ancient Rome, Mad Hatters Tea Party and Greece.
Distance from TRIBE Canary Wharf: 0.4 miles (eight-minute walk)
Afternoon antics: from ice skating to outdoor art 
The best things to do in Canary Wharf give you the chance to experience all the different characteristics of this vibrant part of London. A rich tapestry of culture, entertainment and inspiration, from ice skating to outdoor art, afternoons are best spent experiencing the myriad of permanent and seasonal activities available. Here are a few favourites.
Keep it cool at the ice rink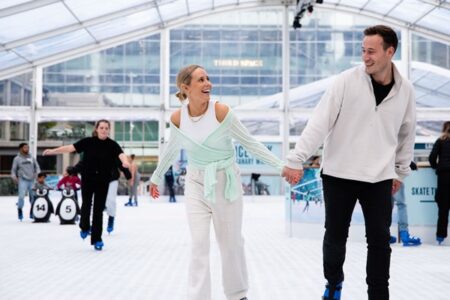 Open until Saturday 25 February, the ice rink is an inspiring place to skate under the stars and skyscrapers. An enclosed space with a transparent roof, allowing for all-weather entertainment, it's one of the most highly anticipated sites of the season. On select Wednesday evenings, they also have live music at the ice rink, from DJ Leon C and Sister Sax, playing everything a mix of Funk, Soul and House chart classics. 
Distance from TRIBE Canary Wharf: 0.3 miles (seven-minute walk)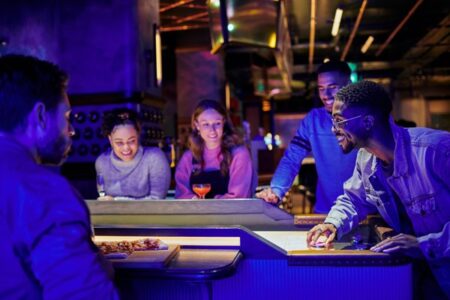 Shuffleboard is not typically associated with the buzz of the metropolis, but Electric Shuffle has sought to change that. The global brand turns the classic game into group entertainment for between six and 32 people in your own semi-private playing area, complete with food, drink and healthy competition. It's just £11 per person for 90 minutes and having met with great success from Dallas to Leeds, it's brought its Gatsby-esque style to Cabot Square, complete with 10 playing areas and two well-stocked bars.
Distance from TRIBE Canary Wharf: 0.5 miles (11-minute walk)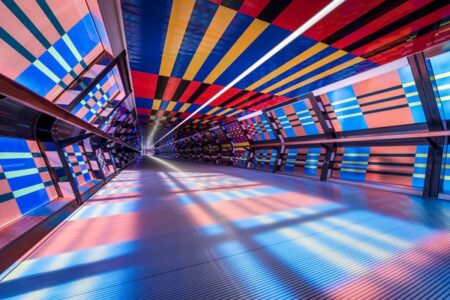 Art is interwoven into Canary Wharf, from permanent sculptures to dedicated exhibitions. In fact, the estate is home to London's largest collection of outdoor public art, which is entirely free to see. Wrap up warm and wander around, spotting more than 100 pieces, ranging from stand-alone sculptures to integrated architectural works, each created by respected artists, from jeweller Wendy Ramshaw's gates in Willoughby Passage to Camille Walala's immersive, colourful tunnel at Adams Plaza Bridge. Meanwhile, the Electro-Rainbow installation by artist Lothar Götz remains in situ at Crossrail Place, having been commissioned for Pride month to celebrate LGBTQ+ culture, and winter exhibitions to look forward to include Winter Lights, transforming Canary Wharf with over 20 stunning light installations from 18 to 28 January. 
Distance from TRIBE Canary Wharf: As far as you wish to go within the estate.
Fine dining at Canary Wharf
The best restaurants in Canary Wharf are not limited to breakfast and lunch. There's plenty to keep you inspired at every turn, so when it comes to dinner, take your pick!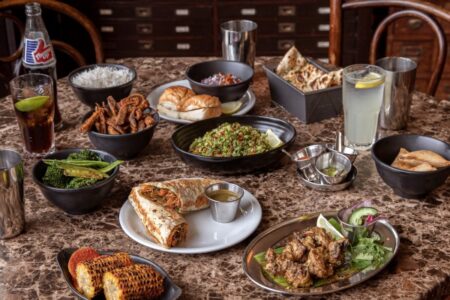 Dishoom will delight lovers of authentic Indian dishes. The menu specialises in Bombay comfort food and award-winning drinks and reminds new guests that everything Dishoom does is about sharing its love for Bombay's culture, heritage and people. Find out for yourself why it's already such a foodie hotspot.
Distance from TRIBE Canary Wharf: right next door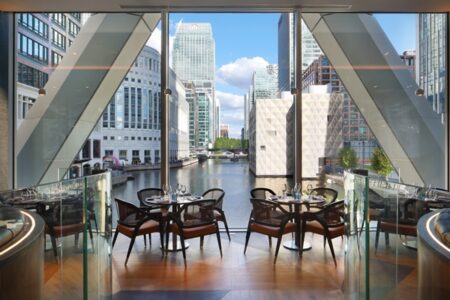 For something a little more sophisticated, head to M Restaurants at Newfoundland Place, where the floor-to-ceiling windows and ceiling-high Champagne displays invite you into a world of sensory pleasures. A mix of modern international grill, bar, wine tasting room and members club, enjoy food cooked with coal, wood, smoke and ice, inspired by flavours from around the world. Pair it with a choice of more than 400 wines and a sustainable drinks menu ranging from carbon-positive vodka to signature cocktails like their Red Velvet Goblet or their Sweet Shop Daiquiri.
Distance from TRIBE Canary Wharf: 0.7 miles (14-minute walk)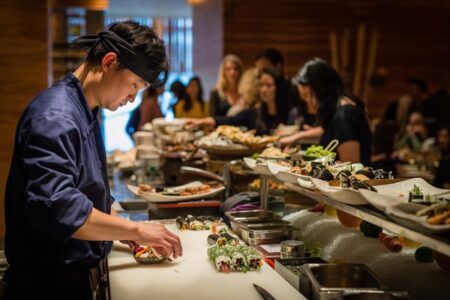 With a dramatic view of the city skyline, ROKA is the place for Japanese robatayaki cuisine on Canada Square. An elegant restaurant where food is cooked over hot charcoal, the award-winning brand has locations around the world. It's warm and all-embracing, building on a form of food prep that began on the northern coast of Japan and an ethos that's all about sharing.
Distance from TRIBE Canary Wharf: 0.4 miles (11-minute walk)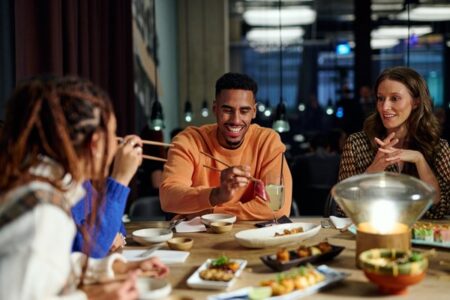 Fast, fresh and fabulous, Sticks'n'Sushi did what none of us thought was possible – put a new take on the urban sushi experience. The perfect combination of standards and ease, choose from traditional sushi and yakitori sticks from the grill in soothing Scandinavian-style surroundings. Friendly and affordable is the name of the game here, thanks to brothers Jens and Kim Rahbek, and Thor Andersen, who founded the brand in 1994, combining their half-Japanese, half-Danish background and creating a dynamic foodie experience.  
Distance from TRIBE Canary Wharf: 0.5 miles (10-minute walk)
Evening exploits
For those seeking to make every moment count, Canary Wharf has something to offer for every hour of the day. After dinner, enjoy live music or dance the night away – the choice is yours.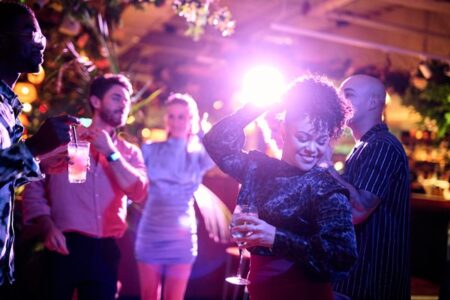 Pergola On The Wharf is a botanical haven in the Crossrail Place Roof Garden, where flowers, ferns and vines envelop you in a different kind of urban jungle. The terrace, the cocktails and the view provide an intoxicating combination. While it's perhaps best known as a restaurant, those in the know head over for their Friday night Pergola Lates. It's free access and it kicks off at 7pm, with a DJ playing the best tunes for dancing late into the night.
Distance from TRIBE Canary Wharf: 0.4 miles (10-minute walk)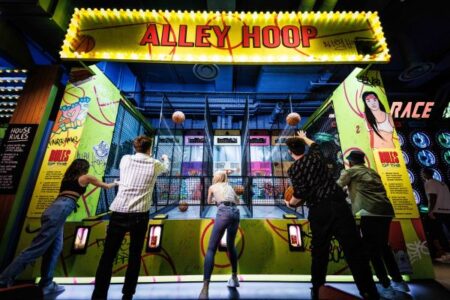 Fairgame brings fairground fun and plenty of flair to food and drink. New to Canary Wharf, it's all the joy of childhood with the freedom of being an adult – fairground games go high tech, alongside cocktails and street food in abundance. Best enjoyed with friends, you play two rounds of the game circuit, and your best score is added to the leaderboard. Tuck into margaritas and tacos to celebrate.
Distance from TRIBE Canary Wharf: 0.6 miles (12-minute walk)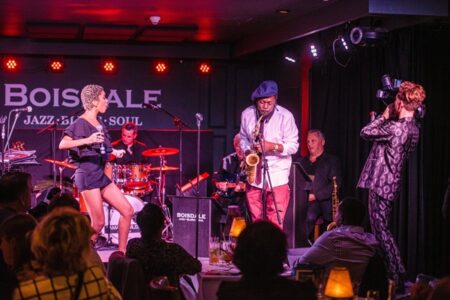 A lively restaurant and music venue, Boisdale of Canary Wharf combines life's great indulgences for a guaranteed evening of entertainment. Featuring a whisky bar, ter­race, oys­ter bar and grill, as well as a cig­ar library, complete with sky-high city views, it's a place to spend the whole evening or to join for live music and late-night entertainment. They have regular live events with an ever-changing roster of artists. Coming up, you can look forward to Boney M, The Definitive Rat Pack and Jools Holland.
Distance from TRIBE Canary Wharf: 0.5 miles (10-minute walk)
Rest and recuperate at one of the most fashionable hotels in Canary Wharf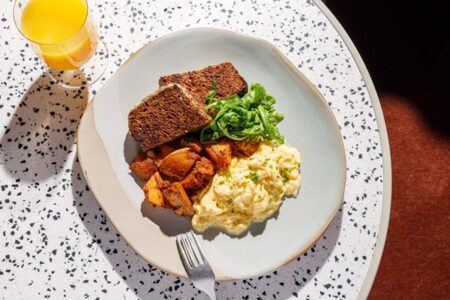 After all that, you're deserving of a good night's rest back at one of the most popular hotels in Canary Wharf. Rest your head at TRIBE Canary Wharf, and wake to breakfast the next day at the hotel's California-inspired Feels Like June restaurant. Feel sunny side up after an injection of wholesome LA favourites, including coconut chia pots, homemade maple granola, buttermilk pancakes or a breakfast burrito – and plenty of coffee of course.
Distance from TRIBE Canary Wharf: Just roll downstairs.