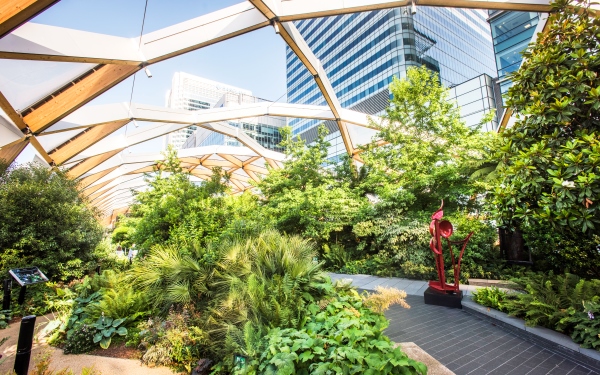 Sustainability
Green Planet – Putting Sustainability First
Putting sustainability first has made Canary Wharf one of the most environmentally friendly districts in the capital
3 June 2021
As the world awakens to the effects of climate change, the decisive actions we take now have never been more important. For decades, Canary Wharf has been taking progressive steps to ensure those who enjoy the Estate can do so as sustainably as possible, and the actions taken by Canary Wharf Group, along with tenants, suppliers and the local community, have made it the most sustainable developer in the UK.
One of the most successful initiatives was 2018's award-winning Breaking the Plastic Habit, which aimed to remove single-use plastic from the Estate. Canary Wharf is now the first district in London, and the first commercial district anywhere, to be awarded Plastic Free Communities status by charity Surfers Against Sewage.
Across the Estate, you'll find evidence of a proactive approach to sustainability. There are seven water refill stations, and recycling bins at every turn. There's a Sea Bin in Middle Dock too, which collects 180kg of plastic debris every year from local waterways, and solar panelled Strawberry Smart Benches with Wi-Fi. And thanks to a dynamic Biodiversity Action Plan – to ensure a thriving ecosystem for cleaner air and healthier people – you can enjoy spotting bird and bat boxes, tufted ducks, mallards and even seals as you walk around the Estate, where you'll find six acres of parks, squares and amenity space.
Canary Wharf has sent zero waste to landfill from managed areas since 2009; instead, the strict recycling polices have meant that, since 2017, Canary Wharf has diverted almost 600 tonnes of coffee grounds from landfill into biofuels, and recycled approximately six million coffee cups. What's more, the Canary Wharf Estate has run on 100 per cent renewable electricity purchased since 2012, and Wood Wharf was the first construction site to support the Mayor of London's Clean Air Campaign.
Canary Wharf Group is the largest sustainable developer in the UK with more than 11 million sq ft of sustainable certified buildings, some of which have achieved an 'Outstanding' rating from the world's leading sustainability assessment body, Building Research Establishment. This is only awarded to the top one per cent of developments considered best in class when it comes to health and wellbeing, responsible sourcing and energy efficiency. In addition, all new developments are being designed with the WELL Building Standard™ requirements in mind, improving experience and wellbeing.
Underlining Canary Wharf's sustainability initiatives is a commitment to achieving net zero carbon by 2030, underpinned by approved Science Based Targets. So far, the steps taken have resulted in a 34 per cent fall in emissions since 2012 – a significant milestone and a poignant reminder that the actions we take now will have a resounding effect on the future of our planet.