Eating & Drinking
From Farm to Fork
Indulge in the best of British cuisine at Canary Wharf this winter
7 November 2023
Across the UK local communities are famous for their regional produce, from Cornish seafood to Devonshire clotted cream, Gloucestershire cheeses to English sparkling wines and much, much more. All these delicacies and seasonal, sustainable ingredients are cooking up a storm at some of Canary Wharf's most popular foodie destinations – here are a few favourites for the best British food in London.
Chophouse love at Blacklock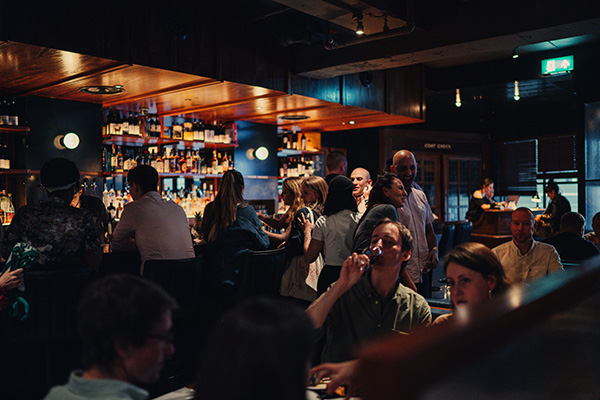 New to Frobisher Passage this year, Blacklock brings its Soho magic to Canary Wharf, transforming the 1690s chophouse for the modern age as one of the best traditional British food restaurants in London. Blacklock is the best of British meat at wallet-friendly prices. Unpretentious and perfect for languid lunches, choose from steak sarnies all the way to prime rib. For festive celebrations with friends, family or colleagues try their 'All In' menu, complete with their famous white chocolate cheesecake. You can even give it a whirl yourself – so many people have asked what their secret is, they've released the recipe – click here to try it for yourself.
Scottish steak sensation at Boisdale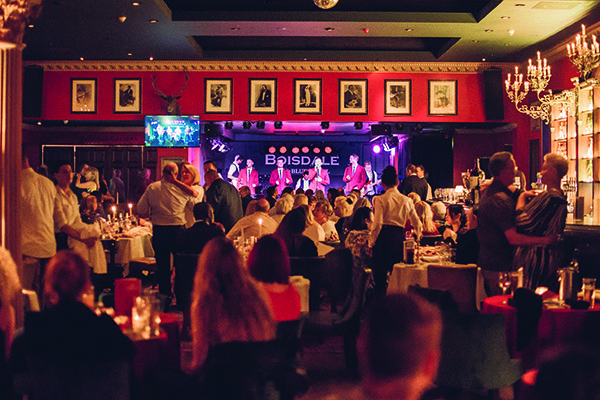 Named after the remote port on the beautiful Isle of South Uist in the Outer Hebrides, Boisdale brings Highland hospitality to the heart of London. At their location in Cabot Place, they serve up world-famous dishes ranging from Aberdeen steak to Scottish salmon across their two restaurants and four Canary Wharf private dining rooms – but the magic doesn't stop there. There's the Hine Bar & Garden terrace to enjoy, the UK's largest whisky bar, a Cuban Cigar Library and a live music venue where they are open late and feature a host of regular acts thanks to Jools Holland – Boisdale's Patron of Music presenting the very best in jazz, blues, soul and occasionally rock'n'roll. To get everyone in the swing of things over the holidays, sing along to The Definitive Rat Pack Christmas Party or tuck into a Sinatra Christmas Lunch – amongst other favourites.
Sustainable seafood at Fish Game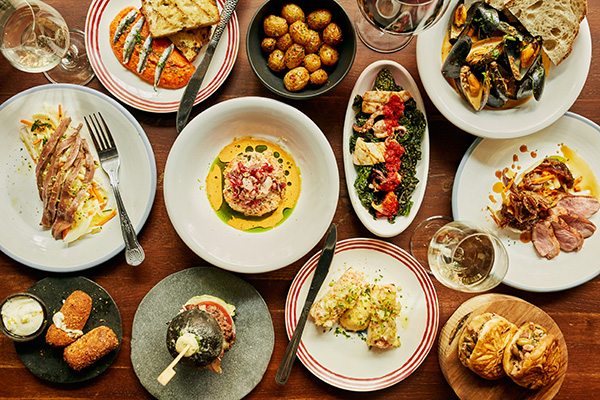 Having opened in July, Fish Game will be celebrating its first Christmas on Water Street this year with the best of British sustainable seafood. Alongside their popular menu from the UK's lands and waters, cooked simply over fire and charcoal, they have a beautiful private dining room in Canary wharf – perfect for festive celebrations. The multi-course menu immerses you in a flavourful feast, where favourites range from trout on toast to Cornish monkfish and ribeye off the bone.
Carbon positive cocktails at Hawksmoor Wood Wharf
Housed in an eco-friendly floating pavilion, Hawksmoor Wood Wharf are masters of sustainable seafood and steak. Certified B Corp, the Canary Wharf hotspot is popular for its delicious fare, its buzzy atmosphere and its seasonal cocktails. With the autumn/winter menu we've become big fans of their carbon positive gin and their Pear-Nicillin cocktail made from Glenmorangie X, Laphroaig, pear, lemon and ginger.
Organic high at MMy Wood Wharf
This sustainable community market is like Christmas has come early for foodies with a social conscience. From organic wines to an international feast of groceries and freshly prepared food and drink, tuck into iconic Badiani gelato, pizza and pasta or sip on craft beers, coffee and more. There's a grocery store so you can continue cooking up a storm at home, and don't forget that while you're here there's The TAM – a Jazz Club on the lower ground floor – for live music ranging from Jazz, Blues, Neo Soul and open mics.
Freshly farmed at Pedler
Built on strong relationships with day boat fishermen, independent farmers and producers and a passion for the local food of London, Pedler at One Canada Square is a relaxed and welcoming bar, restaurant and work space where you can tuck into the best of the British Isles. Now showcasing their British Christmas menu, favourite dishes include a crab and crayfish cocktail, smoked haddock, mini Yorkshire puddings, baked salmon, fried venison and a veggie wellington, not to mention a delicious blackberry 'fool'.
Innovative indulgence at Six by Nico
Famous for their innovative, themed menus, Six by Nico at 6 Chancellor Passage is dining with added whimsical appeal – appropriate for the holiday season. Taking the sense of enchantment to new heights, they feature a new six-course tasting menu every six weeks courtesy of chef/proprietor, Nico Simeone, who was born and raised in Glasgow and has sprinkled his particular brand of stardust across the UK ever since. We can't wait to see what he cooks up this Christmas!
Leisurely luxe at The Ivy in the Park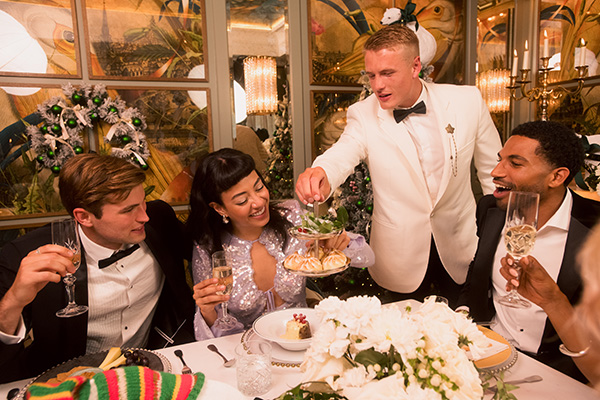 Renowned for its refined but casual all-day dining, The Ivy in the Park is in one of the Wharf's most sustainable buildings, inviting you to enjoy company with friends or watch the world go by in style. For the holiday season they have launched their dedicated British Christmas dinner menus for breakfast, lunch and dinner, not to mention a set New Year's Eve menu as well. Enjoy immunity boosting smoothies, bircher muesli or crushed avocado and chestnuts on toast in the morning; tuck into smoked salmon, goose and turkey shepherd's pie, and sea bass with mussels at lunch; or stilton and walnut soufflé, sirloin steak and duck parfait in the evening.
Discover more foodie favourites
Supermarket sweep
Whether you're hosting at home or cosying up on your own, Canary Wharf's supermarkets have you covered from Christmas dinner to Diwali prep, Saturday nights to mid-week bites. Across the Estate, we've got Waitrose & Partners, M&S Food, Amazon Fresh, Morrisons Daily and Tesco Express, not to mention the popular Canary wharf grocery stores of Tian Tian Market with its range of premium East and South-East Asian ingredients and Nicolas Wine Bar, where you can have a glass with dinner and then purchase your favourites to take home.