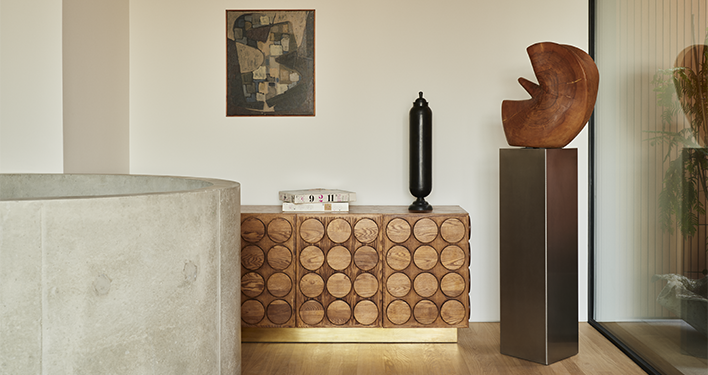 Residential
Extraordinary Design: How Tom Dixon Styled our Penthouses
In styling Canary Wharf's One Park Drive penthouses, feted British designer Tom Dixon has literally taken luxury interior design to new heights. The Herzog & de Meuron-designed duplex penthouses with hidden internal courtyards demanded an approach both iconic and iconoclastic, eclectic yet refined – an approach which Tom Dixon has more than mastered over the course of his celebrated career.
31 January 2023
The penthouses have interior and art direction and dressing by his Design Research Studio. Led by Tom Dixon and Helene Bangsbo Andersen, Design Research Studio is best known for its material-led and radical approach to design.
Who is Tom Dixon
Born in Tunisia, Tom Dixon moved to Britain during his early childhood and attended a comprehensive school in Holland Park, London, where he sought refuge in the art department. Ceramics provided him with his first encounter with transforming raw materials into something more precious. In the 1980s, he applied this approach to what would lay the foundations for his unplanned luxury interior design career, a line in welded salvage furniture.
Tom Dixon designed the iconic 'S' chair while working with the Italian designer Capellini, and in the 1990s, he rejuvenated Terence Conran's Habitat while working as the brand's creative director. He was awarded an OBE by Queen Elizabeth II for his services to British design in 2001, and in 2014, he was named Designer of the Year at Maison & Object, Paris. Unquestionably original in his approach to design, Tom Dixon was chosen to style our luxury penthouses in London because these residential spaces are as unique as his approach to design.
How to Choose a Luxury Interior Design Style
There is no singular approach to luxury interior design. Whatever the homeowner's preferred style, the hallmarks come down to careful and refined curation. When choosing a style, the most important point is to choose something which gives expression to your passions and personality.
Tom Dixon's interior design is a radical celebration of raw materiality, something that he focused on in the 'Home of the Collector' concept for One Park Drive's luxury penthouses in Canary Wharf, London. The concept saw Tom Dixon imagine the spaces through the persona of an international collector and bring in furniture and art with an acquired and rich collectable-design. This luxury interior designer in London took an eclectic approach driven by art, architecture, and travel, and it's an approach shared by many homeowners in the capital and beyond. It is, of course, not the only style.
Other popular luxury interior design styles include:
Scandinavian: Clean, functional, and rectilinear, Scandinavian style brings natural materials and simple colour schemes to the fore, bringing in accents with pastel shades and carefully curated design objects.
New Empire: An updated form of 19th century European Classic Empire style, New Empire brings together ancient Egyptian, Greek, and Roman influences in a celebration of triumphant heroism. The style is particularly suited to spaces with high structural ceilings, stucco mouldings, and columns, and is characterised by opulent materials, bold hues combined with gold or silver, and rigorous geometry.
Art Deco: Strict lines, clear geometric patterns, and luxurious textures and materials such as ebony, leather, mahogany, and gold, as well as chrome, mirror, and polished stone surfaces are hallmarks of Art Deco luxury interior design. The style is enjoying renewed interest as we approach the centenary of its emergence in the 1930s.
Luxury Modern: A contemporary approach, Luxury Modern design embraces clean, uncomplicated lines and luxurious, innovative finishes, with accents which are either monolithic and sculptural or simplified and understated. Wall cladding, flooring, and installation lighting are important elements of this style.
In contrast to these defined styles, Tom Dixon's interior design concept for the One Park Drive penthouses is at once anarchic, eclectic, future-forward, and beautifully harmonious.
Bedroom Interior Style with Tom Dixon
Tom Dixon approached designing and decorating the penthouses' luxury bedrooms with a sense of meticulous curation. Eschewing typical luxury apartment design, he aimed to create spaces that feel aspirational, compelling, convincing, and personal while remaining practical.
He achieved this through meticulous curation propelled by his desire that every object in the bedrooms should feel as though it had been carefully selected or made specifically for those spaces. The featured artwork is crafted at the Design Research Studio by Tom Dixon himself. In the larger four-bedroom unit, one of the upstairs bedrooms has been transformed into an artists' studio, filled with timber maquettes and early sketches in clay and paper. It is unexpected, which gives this penthouse an edge over other luxury show apartments. Elegant and understated, the bedrooms of these luxury penthouses in One Park Drive, Canary Wharf, London are tranquil and inviting.
Tom Dixon's Extraordinary Living Rooms
While Tom Dixon's chosen concept flows throughout every space within the One Park Drive penthouses, it arguably has its finest expression in the luxury living rooms. The international collector persona through which Tom Dixon imaged these spaces is a lover of architecture and travel who has decided to make their home in London and who has curated a selection of extraordinary objects, art, and furniture over time.
To realise the concept, Tom Dixon commissioned and sourced a range of unique artworks and custom-made many pieces, including ceramics, sculptures, and wall-hung artworks, himself. Cork, roughly hewn wood, paper, and welded steel are among the materials and furniture featured in the useable and liveable living rooms, leaving no doubt to the importance of the element of texture and materiality in his design concept. Stand-out pieces in the penthouses' luxury living rooms include a Poul Henningsen piano, Verner Panton and Tobia Scarpa chairs, lights by Alvar Aalto and Ingo Maurer, and a one-of-a-kind desk originally designed by Belgian architect Frans Vossen for a 1970s private residence.
These elements, together with the large expanses of wall and windows, as well as the high ceilings, create the sense of a private gallery.
How Tom Dixon Styled the Kitchen
Each of the penthouses at One Park Drive boasts a bespoke double-height kitchen that takes advantage of the panoramic view across Canary Wharf and beyond. Tom Dixon's carefully considered approach to kitchen interior design results in a space that encourages both enjoying the view and focusing your attention within the room.
The kitchens' concrete, geometric tile, and white powder-coated hardware look is shared somewhat with the penthouses' bathrooms. That said, differentiation exists in the form of the kitchens' detailed oak carpentry, pop-out walls, integrated Gaggenau appliances, and a central island finished with a white Lasa Marmo marble countertop, as specified by Herzog & de Meuron.
Future Interior Design Trends
Tom Dixon's approach to the One Park Drive penthouses is not out of keeping with his take on future interior design trends. Speaking to UDesign, he said designers must work on the edge of their comfort zone, and must be innovative with new materials, processes, shapes, and combinations of functions; something he has applied many times, perhaps most notably in the bed-sofa project he worked on with IKEA.
Tom Dixon added that he believes interior design of the future is going to be an exciting place, thanks to new, decentralised digital manufacturing processes that will see products made, adapted, and reinvented to suit the customer's individual needs. This is the approach adopted at the Design Research Studio.
For now, the One Park Drive luxury penthouses in London are a fine example of the force to be reckoned with that is Tom Dixon. Book your appointment today to come and view his work in our exclusive penthouse show apartment at One Park Drive.