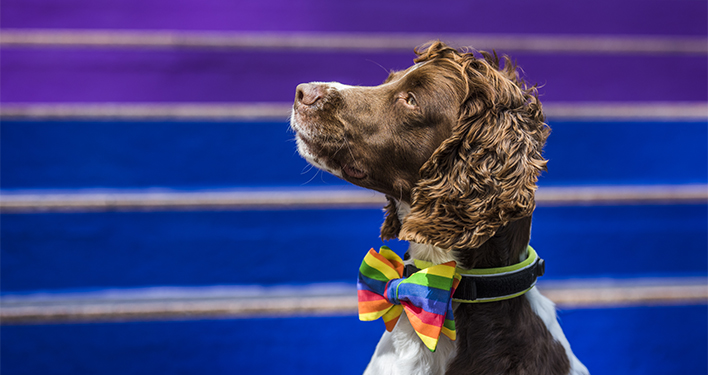 Eating & Drinking
Discover the Dog Friendly Restaurants of Canary Wharf
1 February 2023
Owning a dog is an adventure with endless possibilities but owning a furry friend can limit where you can eat out, as not all locations can be accommodating. Luckily, there's a whole host of dog friendly restaurants in Canary Wharf. So if you find yourself out and about in the E14 postcode why not stop off at one of the restaurants below, where the staff will be thrilled to see you with your dog in tow.
The BrewDog on the Isle of Dogs would seriously be missing a trick if they didn't allow dogs. BrewDog boasts a line-up of some of the most sought-after craft beers in the country, with new brews and collaborations being dropped on a weekly basis. On top of this, they offer a delicious array of salads, wings, burgers and desserts, with a full menu catering to vegans and veggies, so no matter what you're in the mood for, it's one of the most accommodating dog friendly restaurants in Canary Wharf.
Located at 10 Newfoundland place, M is a stylish new addition to Canary Wharf's dog friendly restaurant scene. They offer an award-winning international grill using Provençal ingredients that are prepared in a cooking technique inspired by the uses of coal, wood, ice and smoke.
MMy Wood Wharf hosts an exciting array of food suppliers that bring a thrilling assortment of food straight to Wood Wharf. Boasting a range from Italian pizza and craft beer to Chinese street food, MMy Wood Wharf is a one stop shop for all lovers of international cuisine.
A bakery with a storied career spanning over 20 years, Ole & Steen have brought their brand of scrumptious Danish baking straight to the heart of Canary Wharf. They open at 7am, making this a great place to stop off at for a quick breakfast during an early morning dog walk.
Humble Grape is Canary Wharf's premier wine bar and shop. Sourcing over 400 wines from Austria to Argentina, you'll be hard pressed to find a more exquisite dog friendly wine bar in Canary Wharf. It's worth dropping by throughout the week to catch one of their unbeatable events, especially their promise of a selection of bottomless wines on Saturday afternoons.
If you're looking for light and breezy, Feels Like June has you covered. Drawing inspiration from European and Californian cuisine, this dog friendly restaurant serves up small mezze and crudites to steaks, burgers, and schnitzel; dishes guaranteed to get your furry friend going green with envy.
Notes Coffee serves up single origin specialty coffee, as well as seasonally inspired food, craft beers, and cocktails. So, if you need to find a place to have a quiet coffee, or one to have a louder drink, Notes Coffee can accommodate, especially if you're bringing your dog!
Sticks'n'Sushi quadruples up as a restaurant, a takeaway, a catering service, and a bar. This is their fourth location to open in the capital, with demand for their responsibly sourced sushi growing with their reputation. The Canary Wharf branch is also the first to be open for breakfast, another perfect place to stop off at after an early morning stroll.
This crowd-pleasing chain of eateries and pubs serves up comfort food – from fry ups to burritos to pancakes. Known for their wide appeal, it's the perfect place to gather with your friends – without having to leave the pooch at home!
Click here for more dog friendly restaurants in Canary Wharf
Note: Dogs are allowed on the Canary Wharf estate, including Crossrail Place Roof Garden however, only Assistance Dogs are permitted to walk inside our malls though small dogs may be carried.