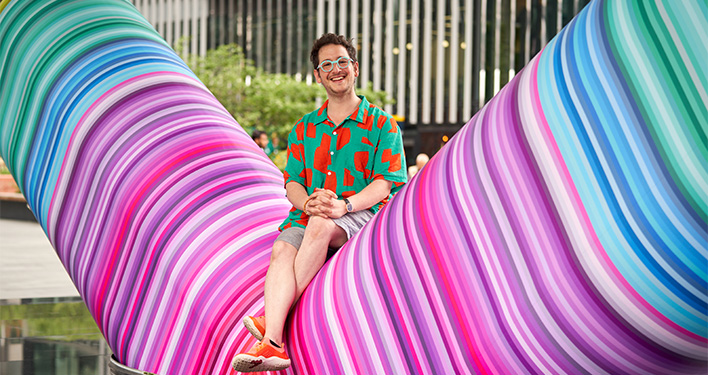 What's On
Artist Adam Nathaniel Furman in conversation with Assistant Curator of Public Art, Lowri Harries
Adam Nathaniel Furman's large-scale installation Click Your Heels Together Three Times joins Canary Wharf's free permanent art collection of over 100 pieces. Here, Adam gives us an insight into their process, influences, and the importance of queer spaces in the public realm.
15 August 2023
The title of the installation, Click Your Heels Together Three Times is a reference to Judy Garland's ruby slippers in The Wizard of Oz, why is this such an inspiration for you?
Well, that film is quite an iconic queer film, with the heels being magical connectors between two worlds, namely the world of being out and queer, and the world of stifling normalisation and traditional social expectations, so using the stripes of inclusivity, the idea was to create a kind of liminal gateway in the middle of Canary Wharf to another alternative possible, queer urbanism.
You have previously taken inspiration from Canary Wharf for your Architectural Icons series, depicting One Canada Square in bright pastel colours. How has the environment of Canary Wharf inspired this installation?
Canary Wharf has fascinated me since I was a child, it's this utterly bizarre piece of the city that feels like a completely alternate reality, completely amazing in its scale, cleanliness, futuristic aesthetics, and it represents a kind of masculine internationalism that I find so interesting, and which I also love reacting to, by layering it with alternative meanings, which I was keen to do with the iconic Adamas Plaza Bridge and the surrounding square.
Your practice straddles both art and architecture and you have developed a very unique style because of this, who has influenced you the most in developing this style?
I am not a qualified architect myself, though I have plenty of experience from studying to working and teaching in the sector. My influences have been myriad, starting with childhood experiences of Argentine and Japanese art and culture, becoming a teenager and both being immersed in London's extremely vibrant queer scene of the late 90s and early 2000s, as well as the Italian masterpieces of the National Gallery where I used to escape when very down, and the city's remarkable abundance of public and civic art, all of this has fed into my way of working. In terms of individuals there are too many to mention!
How do you approach a new project; do you have a specific process or routine?
I have a very traditional approach, initially doing research, then taking some time for that to "percolate", then usually I sketch and paint, do some writing and poetry to help clarify the ideas behind the concept in my head, then I shift onto the computer to start producing measured drawings and information for fabrication and making.
You have recently released your book, 'Queer Spaces: An Atlas of LGBTQIA+ Places and Stories' why is it so vital to carve out queer spaces within the public realm, and how can art facilitate this?
It is important for there to be representation of all our communities and backgrounds in the public realm in order for everyone to feel welcome, as well as to simply make our urban spaces truly interesting and diverse, which benefits everyone who occupies them.
Your merchandise designs use the phrase 'ornament is sublime', a play on modernist architect Adolf Loos' book title 'Ornament and Crime' do you feel you reject these modernist sentiments within your own style?
Sadly, the legacy of modernism has been reduced to a handful of rather silly and reductive principles, less is more, ornament is (a distortion of the original title) crime, form follows function, collectively forming a kind of extremely narrow dogma that is terribly myopic, restrictive, and has no true relationship with the cultural ferment and complexity out of which modernity and modernism arose. I very much reject these sentiments and embrace a kind of modernity of the now, a modernism of the different, the diverse, the Other and the Queer, which, frankly, I believe to be more in tune with the early modernism that I relate to, the modernism of Baudelaire, of Proust, Aubrey Beardsley and Wilde…
 Click here for more info on Click Your Heels Together Three Times