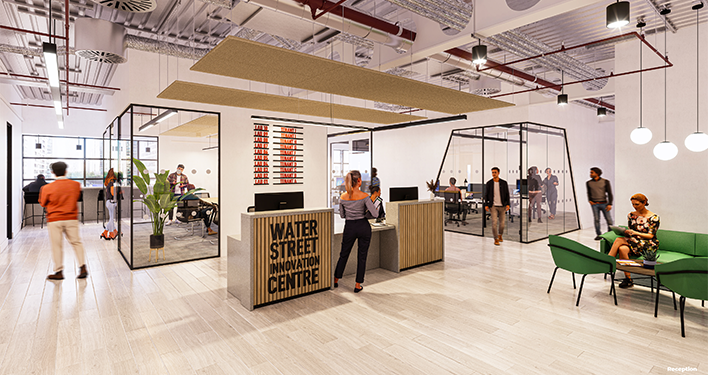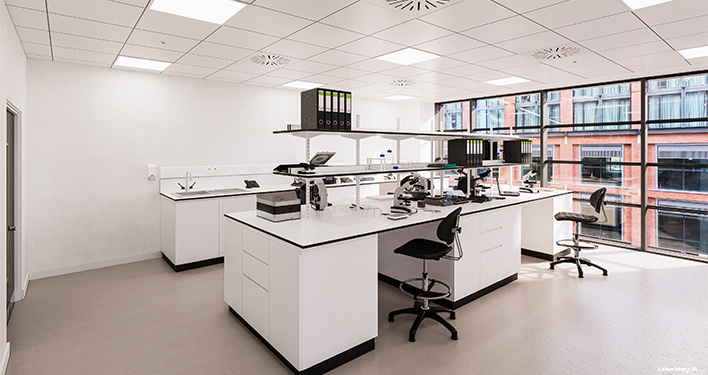 Offices
20 Water Street Lab Space
Canary Wharf's reputation as a hub of innovation is set to grow even stronger with the announcement of the new life sciences innovation centre at 20 Water Street, thanks to a partnership with Kadans Science Partner.
30 April 2023
With 40,000 square feet of fully fitted, CL2 wet labs and office accommodation, the centre offers state-of-the-art lab-enabled space for innovators in the life sciences industry.
Located in the heart of Canary Wharf's up-and-coming neighbourhood, Wood Wharf, the innovation hub offers flexible lease terms and customisable options to meet the unique needs of life sciences companies. Whether the requirement is for an individual lab bench within the innovation centre's co-working space or for a private lab, our lab-enabled space is designed to provide the resources and support for life sciences companies to continue to thrive.
In addition to lab space, the centre features bookable meeting rooms, collaboration areas, and break-out facilities. Plus, access to shared equipment facilities, including an autoclave, glass wash, -80 freezer, ice flaker, and LN2. Our labs are fully digitised and IoT ready, with a lab management system to help optimise research and streamline processes.
But it's not just the facilities that make the new life sciences innovation centre at 20 Water Street stand out. Our dedicated in-house lab technician, community manager, and receptionist are there to provide support and help create a vibrant community of innovators and entrepreneurs. We believe in collaboration, learning from each other, and access to resources to grow and succeed.
This new centre is part of a larger initiative by Canary Wharf Group to attract life sciences companies to the area, following a joint venture with Kadans Science Partner to create Europe's largest 823,000 sq. ft GIA commercial health and life science focused building, One North Quay. With a dedicated focus on the life sciences industry, Canary Wharf will be a leading hub for innovation in this field.
The new lab-enabled space at 20 Water Street is scheduled to be available from June 2023. Whether they're a start-up or an established company, we have the space, resources, and support to help them succeed.