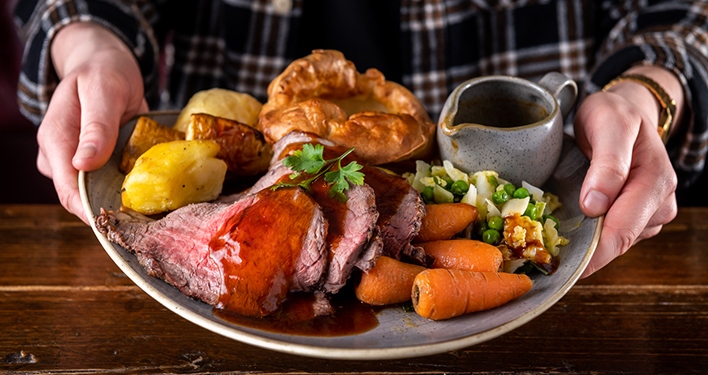 Eating & Drinking
Seven of the Best Restaurants for a Sunday Roast in Canary Wharf
As we head into autumn, we round up some of the top spots to enjoy a hearty roast – after all, no Sunday is complete without a gravy-soaked lunch
21 September 2022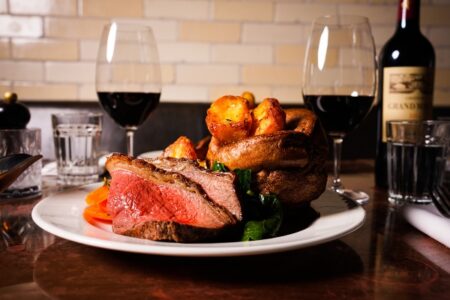 Housed in an eco-friendly floating pavilion in the new riverside neighbourhood of Wood Wharf, Hawksmoor rather impressively gently rises and falls with the tide. Its menus revolve around the best British produce the country has to offer, with grass-fed dry-aged ethically reared beef the highlight. They also serve up the ultimate roast, having been awarded Best Sunday Lunch in the UK twice. The slow roasted rump is cooked on real charcoal and then finished in the oven, and is served alongside beef dripping roast potatoes, Yorkshire puddings, carrots, greens, roasted shallots and garlic and lashings of bone marrow and onion gravy – yum! Pre- or post-roast, why not go for a drink or two in the adjoining dock-level waterside bar, The Lowback? Book here for your Sunday spot.
Nº35 Mackenzie Walk is a lively all-day restaurant, whatever the occasion. And its Sunday lunch menu doesn't disappoint either. Alongside its free-range chicken and 28-day aged topside of beef, it also serves lamb steak and a sweet potato roast too. And the kids don't miss out either, as children's portions are also available. Enjoy the food while admiring the restaurant's bright lounging areas, hand-made furniture and handpicked artwork, or if there's some autumn sun, head outside and get some vitamin D and eat al fresco on the eatery's south-facing waterfront terrace. Reserve your place on a Sunday here.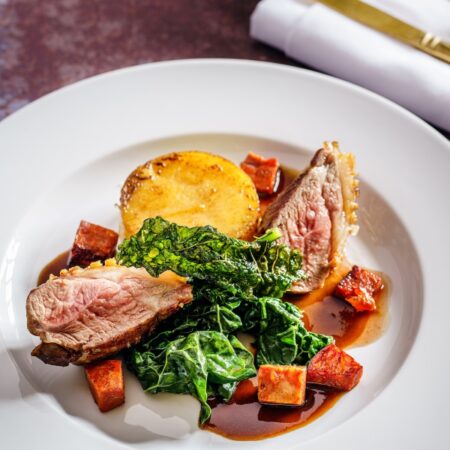 Wander through Crossrail Place roof garden into Pergola On The Wharf's botanical escape which is adorned with real flowers, ferns and vines and where sunlight streams in from floor-to-ceiling windows. Here you can end the weekend in style with its classic Sunday roast menu. There's a selection of four roasts – cornfed Norfolk chicken, dry aged rump beef, Cumbrian pork belly and a nut roast, served alongside mouth-watering sides including rosemary roast potatoes, pigs in blankets and baked cauliflower cheese. What's more, you can watch the chefs prepare the food as the restaurant has an open kitchen – book here.
With an impressive 400 sustainable wines and counting to choose from, Humble Grape has you covered when it comes to choosing the perfect bottle of wine to accompany your Sunday roast. Its food is just as tasty too, serving up roast pork belly, beef rump and a nut roast with Yorkshire pudding, grilled cauliflower cheese, roasted root vegetables and lashings of gravy. The restaurant is also dog friendly, so you can enjoy your roast with your furry companion! Make a reservation here.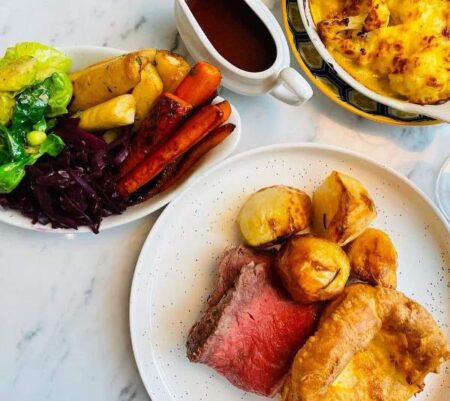 Located within the lobby of the iconic One Canada Square, Shutters has a relaxed atmosphere – just what you need for the end of the week. And if Sunday lunch on its own isn't enough, its Sunday roast menu offers up the option to have a starter and a dessert too as part of a set menu. Or those opting just for the one course can choose from roast sirloin of beef, half roast chicken or mushroom nut roast served with roast potatoes, glazed root vegetables, red cabbage, greens, gravy and a Yorkshire pud. Delicious! Book here.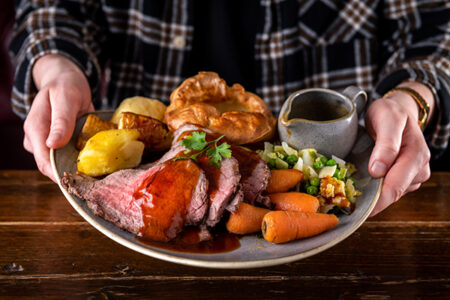 Where better to go for a Sunday roast than to a typical British pub? Located in the heart of London's Docklands, The Henry Addington serves up classic pub food alongside the finest cask ales. Here you can take your pick from its extensive selection of perfectly cooked meats including the 21-day aged roast beef, tender roast chicken, succulent slow-cooked pork belly, and not forgetting the plant-based goodness of its vegetarian walnut and almond nut roast. Enjoy home-cooked and flavoursome vegetables, like crispy roast potatoes, honey-glazed parsnips, glazed Chantenay carrots and steamed greens, along with Yorkshire puddings and gravy.  Make a reservation here.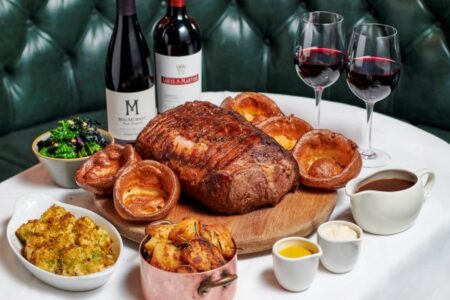 Boisdale of Canary Wharf makes a Sunday roast an experience thanks to its delicious three-course roast dinner, wine and stunning views, all accompanied by live jazz. Stand-out menu options include roast rib of dry aged beef, slow roast loin of rare breed saddleback pork and roast Dumfriesshire blackface haggis, while those who might not fancy a traditional lunch can opt for a burger, risotto, fishcake or marinated chicken – view its menu in full here. Savour this all the while listening, and even later dancing if you so wish, to a Frank & Dean show. Get those toe-tapping feet at the ready! Book here.