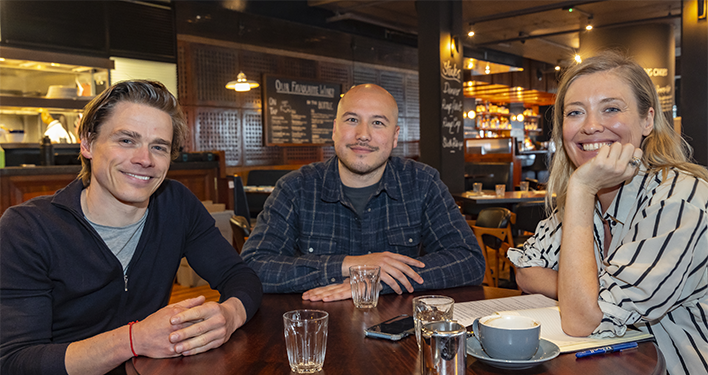 Eating & Drinking
Chewing the fat with Blacklock founder Gordon Ker
To celebrate the opening of the latest addition to the Blacklock family of restaurants, we joined company founder Gordon Ker to find out what's special about its Canary Wharf location.
5 May 2023
Come for lunch. Stay for dinner. That's the ethos of Gordon Kerr's latest restaurant, tucked away under a DLR bridge in Canary Wharf's oldest building. And with the heavy blinds half closed, the sound of chopping from the open kitchen and the comforting rumble of the trains overhead, you can imagine just that. We joined company founder, Gordon Ker and General Manger Winston Barker to discover more about this new dining destination. Table's away.
My first restaurant was in a former brothel in Soho
We just couldn't find any spaces. I'd speak to the landlord and they'd say, 'Tell me about your other restaurants.' I'd say, 'I don't have any.' They'd say, 'Okay, so tell me about the restaurants you have had?' I'd say, 'None. I'm a lawyer doing work experience at a steakhouse.' To which they'd invariably say, 'Next.' But eventually I stumbled across a venue in Soho no one else wanted. I took it right away.
On the outside Canary Wharf is typically high-rise offices and shiny glass buildings
But there's a fascinating history in the Docklands and Billingsgate Market nearby. The preconception is that it's a place for work, but people live here too, and now it's a destination for people coming in on weekends. So, when we got a call telling us about the oldest building in Canary Wharf, a single standing warehouse under a bridge with a train going over the top we were down right away. It felt characterful and different, a unique slice of the story of this area.
We connect with our community and locality wherever we can
In Canary Wharf we have a 10m-long bar that people can come for a cocktail and bite after work or gather around while they are waiting for friends. The wood panelling on the walls came from HMS Hermes – in service with the Royal Navy from 1959 until 1984 she served as the flagship of the British forces during the 1982 Falklands War – which was docked at Canary Wharf.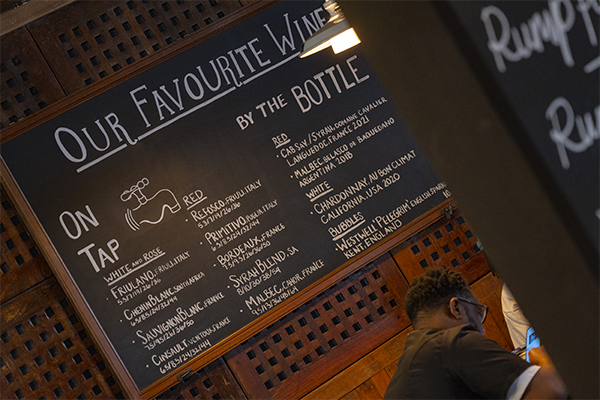 All of our restaurants have open kitchens
They are designed so that wherever you sit, there's some kind of eye candy. There are no duff tables. Everyone feels like they are in it, including the kitchen. It creates a connection and puts the food at the centre of what we do. Often customers will walk up and personally thank the chefs – that's awesome.
Our primary goal has nothing to do with restaurants
We want to be the best place to work that we can possibly be. The idea with that is that if we're a fantastic place to work, and treat our people as our most important asset, then the restaurants will take care of themselves. So we create an environment where everyone is happy, they enjoy work, are passionate about it and want to do a good job. And in that way our customers are happy too.
We value the whole animal
When we first started the restaurant, we did a pilgrimage across the UK to find the very best meat in the country. We found it in Cornwall where father and son, Philip and Ian Warren are third-generation farmers and butchers. Since 1880 their family has been caring for the Blacklock herds, each one raised sustainably, living long, happy lives on beautiful moorland. We buy the whole animal and use every part of it. That means that we're farming less animals, killing less animals, and the quality is therefore higher, because it's much less intensive. That helps us then pass value on to our guests.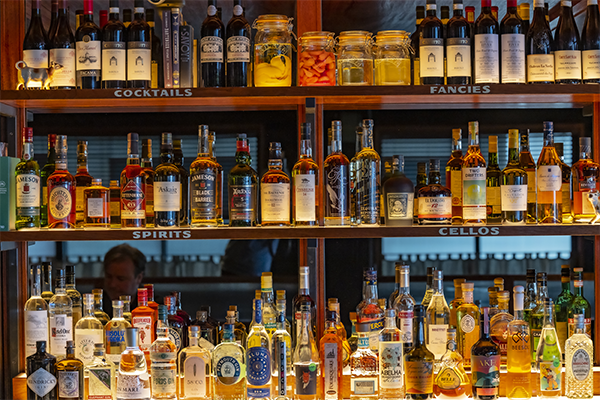 The bar food menu at Canary Wharf is unique
Try the ultimate pork scratchings or the pork and black pudding nuggets which are super delicious. These pair perfectly with our exclusive Under the Bridge cocktail served in your own personal decanter. We are doing a bone marrow bun which gets dipped in gravy – we're all gravy fiends here – and a crab rarebit, loaded up onto a crumpet. Of course, you can't come to Blacklock and not have pig's head on toast. Some people who have it for a starter love it so much they have it for dessert too.
"We have an exclusive red wine just for us. It's a French Malbec and it's a super delicious treat of a thing. Another cool thing is wine on tap, which you can buy from a glass all the way up to a litre." –
Winston Barker, General Manager
Rump cap is my favourite steak
We serve steaks that typically you might not see in other restaurants. We don't discriminate against cuts that might not typically be your hero cuts. Butchered a certain way they can be equally delicious, especially when the animal has lived a lovely, long, happy life and has been reared and cared for fantastically. It's about celebrating the whole animal and minimising waste.
The reputation of the cheesecake is growing exponentially
We have a lot of people coming into the restaurant, just to get cheesecake to take away. I've had people call up asking for a whole tray! But you haven't lived until you've tried it sandwiched into a folded over Yorkshire pudding fresh from the oven. That's my go to when I'm low on energy after a long day.
"Being a northerner, if I'm starting to get a bit grouchy, just hand me a big bowl of bread and gravy." –
Winston Barker, General Manager
We want to give you a bill shock
One where you think, "This is amazing value for money, when can we do this again." We do this by serving really high-quality food that is really fantastic value for money and loads of fun as well.