The Green Guide

Your Conscious Guide to Canary Wharf
When it comes to making greener choices that are better for us and the planet, we're doing everything we can, and so are the brands across Canary Wharf. Live, eat and shop locally in a neighbourhood where sustainable options are important to us all, from water refill stations and parks to plastic-free lunch spots and great transport links.
Taking one small step after another to live a greener lifestyle is something we're proud to support; scroll down to find out how Canary Wharf's brands and restaurants are making green food, fashion, beauty and lifestyle choices easier than ever.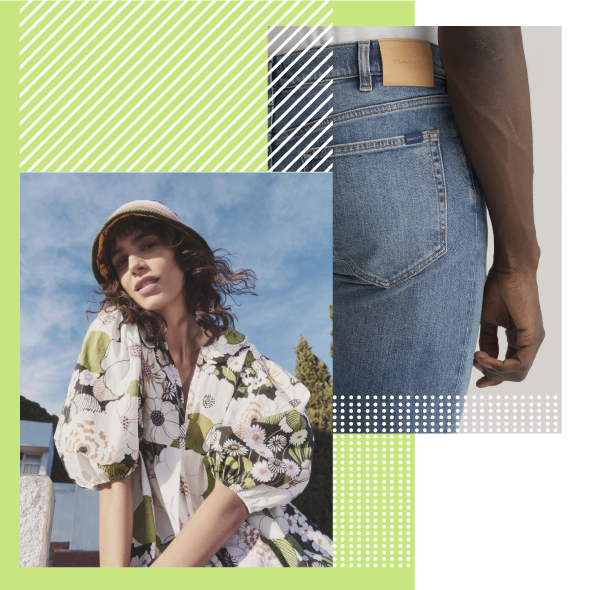 Conscious Shopping
From fashion and wellbeing to beauty and homeware, brands across Canary Wharf are going the extra mile to help us make greener choices. Update your wardrobe and home this season with beautiful items made from sustainable, long-lasting or recycled fabrics and take advantage of in-store beauty brand recycling, zero waste and new refill schemes.
Fashion
ASICS
Making a positive impact on the people and the earth for the next generation, ASICS has a range of sustainability initiatives; from the supply chain to products and operations, and people and communities – donating more than £500,000 in community contributions. And in 2021, 95 per cent of ASICS's running shoes contained recycled materials.
Barker Shoes
In 1869 Charles Goodyear Jr. cleverly invented the 'welt construction' so its shoes could be easily resoled. It means that customers will be rewarded with long serving, comfortable footwear that can be refurbished several times, thus having a positive impact on the environment.
Charles Tyrwhitt
Making great headway in achieving some of its ambitions across its three pillars of product, people and planet, Charles Tyrwhitt is working towards ensuring its products are at the best and most sustainable they can be, from the introduction of sustainable fibres and yarns, to reducing wastage at every step of the production process; for example, the washing of its shirts is done in a special machine that uses just a single cup of water.
Coach
Standing behind the promise that its products are made to look good, wear beautifully, and last for a very long time, Coach is part of the Tapestry house of brands. Its shared objective is to balance true fashion authority with meaningful positive change, focusing on people, planet and communities; read more about its 2025 goals here.
COS
COS looks beyond its clothing to a new way of living and making that will lead it to a climate neutral – and one day, climate positive – existence. This means removing more greenhouse gas emissions from the atmosphere than it creates and using fewer resources in everything that the brand does.
Crockett & Jones
Thanks to its welted footwear construction and using high quality materials, Crockett & Jones promotes longevity of use, resulting in prolonging its shoes' lifespan significantly. The company also reviews aspects of the business where it can be sustainable, such as minimising waste, changing lighting to use less energy and upgrading its heating systems to become more energy efficient. A large number of its employees live locally, and the company also puts on transport to help reduce commuting emissions.
Dune London
Dune London has introduced new shoe boxes across certain ranges which are made of recycled FSC-certified cardboard, use vegetable-based dyes and are fully recyclable, while its packaging is under review and the company is phasing out single-use plastic filling. Plastic carrier bags have been eliminated from its stores and replaced with paper bags, and it ensures its used and unsold products are worn and not sent to landfill.
Good quality items are donated to charities such as Goods for Good, Save the Children and SmartWorks and where the goods are unsuitable for donation, they are repurposed or donated to United Shoe Recycling who use them to provide inexpensive and urgently required footwear for those in need. The company has also partnered with reGAIN to encourage its customers to take part in a responsible economy by recycling redundant shoes and clothes; they can donate unwanted items in exchange for a discount off their next purchase with Dune London.
GANT
GANT's sustainability work is done in the spirit of its Never Stop Learning idea; it is how it educates itself and acts on its ethical, environmental and social responsibilities. For 2022, its first initiative is repair, to help extend the longevity of its garments. Any GANT denim jeans that were made in 2020 onwards can be repaired for free, regardless of where the customer has bought them. All you need to do is to hand them back to a GANT store, and they will restore them to their former glory.
Hawes & Curtis
Hawes & Curtis is a member of the Better Cotton Initiative and conducts due diligence throughout its supply chain. It encourages customers to prolong the life cycle of its shirts with its guide so they will look in tip-top condition for years to come. Other sustainability drives include using digital printing, which is an eco-friendlier type of textile processing, and creating more garments using recycling and repurposing methods.
James Shoe Care
Make your shoes last longer and get them repaired by the experts at James Shoe Care. Not only does it have a positive impact on the environment but also your wallet too, whilst sparing the trauma of not having to say goodbye to your favourite footwear.
Jones Bootmaker
Jones Bootmaker became carbon neutral in 2021 after participating in the UN's Climate Neutral Now initiative which invites organisations to work towards global climate neutrality by addressing their own carbon footprint. Andrew Bowen, Chief Executive Officer of One Carbon World says: "Every emission Jones has offset directly supports the UN and verified voluntary reforestation projects around the world, which help to restore the natural biodiversity while also sequestering carbon from the atmosphere."
JOY
When JOY Louche's Creative Director, Maureen O'Brien, designed a 100 per cent organic collection many years ago, it received a lot of press, but at the time it unfortunately didn't sell. Fast-forward to 2022, and how times have changed. Its Louche Sustain is a big part of the retailer's offering and the range only uses certified fabrics such as organic linen, tencel and lenzing viscose. Browse the collection in the Jubilee Place store.
Jubilee Dry Cleaners
Instead of throwing away that dress or suit that no longer fits, head to Jubilee Dry Cleaners where you can get it altered from the onsite tailor who offers same-day repairs and adjustments. In addition, it also sells its Herbow product, a range of organic and 100 per cent natural laundry detergents, conditioners and stain removers.
Levi's
Levi's are made to last, the very fact of which means it helps to reduce waste sent to landfill. What's more, the brand has created sustainable options and made its original styles such as 501s with Water<Less™ technology – a process that can reduce up to 96 per cent of the water normally used in denim finishing – and has also partnered with the Better Cotton Initiative to improve cotton farming globally. Find out more at its Canada Place store.
Mango
Seventy-nine per cent of Mango's garments already have sustainable properties and it will increase the proportion of sustainable fibres in its collections, working towards a goal of using 100 per cent by the end of 2022. Shop its Committed collection – products that have been produced using sustainable materials or processes, reducing their environmental impact, in-store at its Canada Place shop.
Maje
Using recycled materials in its collections and denim washed using a more environmentally friendly technique, within Maje's Summer 2022 range, 44 per cent of its ready-to-wear and accessories collection meets its eco-friendly criteria. Its goal is to reach 50 per cent by winter 2022 and be above 60 per cent by 2025.
Monica Vinader
Monica Vinader is at the forefront of sustainability, and its most significant recent change is a move to using 100 per cent recycled sterling silver and gold vermeil. The company also has a Repair and Recycle programme and it accepts all pieces, regardless of the brand, and customers receive a £20 voucher towards their next purchase. For all pieces bought, a five-year warranty and lifetime repair service is included, meaning that customers' pieces will be expertly cared for, forever.
Orlebar Brown
Dedicated to a long-term model of 'Measure, Reduce, Rebalance' Orlebar Brown has taken steps towards being carbon-negative. Its sustainability efforts include making changes to its fabrics such as using organic cotton, mulesing-free Merino and certified down, as well as aiming to use only 100 per cent recycled materials by 2023. It offsets carbon emissions, efforts which are led by partnering with SeaTrees, the brand's ocean-focused carbon rebalancing partner. Find out more at its Jubilee Place store.
Paul Smith
Paul Smith is committed to sustainability and its Sun Logo Edit, which includes organic cotton, natural rubber, recycled wool and recycled polyester, as well as innovative new materials made from vegetable waste. The symbol means that it has been made using a minimum of 50 per cent low environmental impact materials. It eventually plans to make it a 100 per cent sun logo collection and it reviews and improves its production processes every season.
Reiss
Reiss is committed to the constant development of its ethical and sustainable standards which start with the choice and traceability of its raw materials through to production and all the way to its customer services. It has also partnered with The Better Cotton Initiative to improve cotton farming globally. Shop its products at its Jubilee and Cabot Place stores.
Sandro Paris
Sandro Paris's goal is to make over 60 per cent of its products eco-responsible by 2025. Day-to-day, the brand endeavours to produce and sell its collections in the most eco-responsible way possible, and favours manufacturers whose production sites are equipped with solar panels, or who enforce waste and water recycling policies.
Sweaty Betty
Knowing that a sustainable future is the only future, Sweaty Betty uses recycled fishing nets to natural yarns, in its creation of clothing that cares both for both your body and the planet. So far, it has transformed one million-plus plastic bottles into its bestselling leggings, made 91 per cent of its swimwear from Econyl regenerated nylon and used organic and recycled cotton in many of its products.
Ted Baker
Ted Baker pledges to ensure 100 per cent of its collections will be made from responsibly sourced materials by 2030. In order to support this goal, it is a proud member of WRAP, the Better Cotton initiative, Leather Working Group and the Textile Exchange. Since 2012, it has been a signatory of the Sustainable Clothing Action Plan (SCAP) and more recently is a founding signatory of the Textiles 2030, an industry-wide initiative to bring about positive change within the sector. Together, with more than 70 UK based fashion brands, it is working to reduce the carbon, water and waste footprint of clothing sold in the UK.
Wolford
As a company whose manufacturing operations are located directly next to a nature reserve, Wolford adheres to strict environmental protection regulations, and has been something it has embodied for decades; Wolford was the first hosiery producer in the world allowed to call itself a partner of the bluesign® system, a scheme that provides safer and more sustainable environments for people to work in and everyone to live in. Going forwards, one of its aims is for 50 per cent of all of its products to be recyclable by 2025; either biodegradable or technologically recyclable.
Health & Beauty
Barry's
All of Barry's UK studios are powered by green energy. Just some of the sustainability methods it employs includes its famous shakes being served in PLA cups, offering both paper and PLA-based straws, products in its changing rooms refilled to reduce plastic usage, using LED lighting systems across all sites and heat recovery ventilation in the Red Room.
The Body Shop
Known for its cruelty-free products inspired by nature and ethically made, The Body Shop has been a force for good since 1976 with years of campaigning, change-making and smashing beauty industry standards. As well as striving to develop zero waste packaging, its products such as its Avocado Body Butter that is stocked at its Cabot Place shop, is made with 96 per cent ingredients of natural origin, including sustainably sourced Hass avocado oil from South Africa, handcrafted Community Fair Trade shea butter from Ghana and Community Fair Trade Brazil nut oil from Peru.
Boots The Chemist
Boots The Chemist's 'Be More' edits are encouraging customers to help them make little switches so that they can 'Be More' sustainable. It has made other pledges including a UK plastics pact, meaning that by 2025, 100 per cent of its owned packaging will be reusable, recyclable or compostable; a food waste reduction roadmap, meaning that by 2030, it will have reduced food waste by 50 per cent; and a BRC climate roadmap where it has committed for its UK stores, along with other retailers, to be completely carbon neutral by 2040, 10 years prior to the government's legislation.
Holland & Barrett
As one of the first to ban plastic carrier bags back in 2010, and the first to ban microplastics in 2012, Holland & Barrett has also eliminated plastic for all online orders, except for bottle jackets – and it is working hard to find a sustainable replacement for these too. It has banned wet wipes, sends zero waste to landfill and recycles all materials used in shops as well as its store support and distribution centres, the latter of which have also been fitted with light sensors to help reduce energy consumption.
Jo Malone London
As well as encouraging the reuse of everything from its candles to its creme pots – the latter of which is especially popular if going away on a weekend break – Jo Malone London also has created refills for its diffusers; pick up in the Cabot Place shop.
What's more, it is doing more and more to help the environment: 75 per cent of its current packaging is recyclable and it is on a journey to ensure its packaging is up to 100 per cent recyclable, refillable, reusable or recoverable by 2025.
Kiehl's, sine 1851
Use Kiehl's Recycle & Be Rewarded scheme at its Jubilee Place store, where customers receive a stamp for every bottle returned, and ten stamps equal a complimentary travel-sized product. Furthermore, not only is Kiehl's creating more responsible formulas with renewable ingredients and sustainable packaging, but it is also active in its generosity through Kiehl's Gives. It is a company-wide philanthropic commitment and has supported 137 charitable organisations through 213 local initiatives worldwide since 2015, with a special focus on the environment and positive social change.
L'Occitane
At L'Occitane's Jubilee Place store, customers can purchase refills, helping to reduce plastic pollution.  On a wider scale, the brand also encourages beach clean-ups and teams up with organisations such as PUR Projet and Woodland Trust to help plant trees in the community.
London Grace
London Grace launched in 2015 as a pioneering beauty service brand, with clean thinking at the heart of its ethos. Since the very beginning it has considered the environmental footprint of the company; when founder Kirsten first launched London Grace there was no viable nail polish brand which was free from nasty chemicals such as formaldehyde, so she decided to develop her own range.
She also made the innovative decision to provide dry treatments at London Grace and this environmentally-friendly 'waterless' treatment equates to more than two million litres of water saved over the last six years. The company is also looking at its use of foils in its gel removal services and trialling finger clips instead which can be cleaned and reused for each client, which would save them from throwing away thousands of foil wraps each week.
NipNip
Cycling causes virtually no environmental damage, promotes health through physical activity, takes up little space, and is economical, both in direct user costs and public infrastructure costs. In short, it is environmentally, socially, and economically sustainable, and NipNip will service and repair your bike to help you to keep it on the road.
Penhaligon's
As well as Penhaligon's environmental policy where it conducts all of its operations in a manner that demonstrates its respect for the environment and awareness of the potential environmental impact, it also encourages its suppliers, staff and customers to make changes.
Rituals…
Rituals… helps its customers to save money and the planet with its Reduce, Reuse and Recycle initiative with refills that are available to purchase at its Jubilee Place store. What's more, in 2020 it introduced recycled PET plastic for its body creams, body scrubs, bath foams, shower oils and fragrance sprays and it is now also using fewer materials for its packaging than ever before too. It is proud to be a B Corp, meeting the highest standards of social and environmental impact.
Space NK
As a hub for a range of beauty brands, Space NK in Cabot Square puts the environment first and seeing used beauty packaging as an opportunity to make something new was the linchpin of the brand. With the belief that waste is only waste when it's disposed of improperly, Handle recycles its used packaging to create a range of unique and sustainable products, while customers can drop off their empties at a dedicated bin located at any of its Space NK stores, so that the same company can also recycle them and give them a new lease of life.
Homeware
John Lewis & Partners
This department store is a one-stop shop for all your home comforts and with its green initiatives, you can be safe in the knowledge that the teams behind the iconic brand really care for the environment too. From eco mattresses to FSC-certified furniture, reusable water bottles to crafting tutorials that encourage upcycling old materials, John Lewis & Partners goes the extra mile when it comes to sustainability. Check out its 7 Steps to More Sustainable Living that include encouraging you to turn your own garden or outdoor space into a haven for nature with one of its nest boxes, bird feeders or bug hotels.
The White Company
From furniture to bed linen, dressing gowns to scented candles, The White Company has taken sustainable measures such as embracing the EU Timber regulations, ensuring that all of its wood and wood-based products are sourced from ethical and environmentally responsible sources. Meanwhile its beautiful brochures are printed using PEFC certified paper where available, which is made from sustainably managed forests and controlled sources, and all of its brochures are fully recyclable. Aiming to achieve net zero carbon emissions by 2040, its five ethical policies are: preserving our precious planet, mindfully sourcing, tackling the packaging monster, leveraging longer life and changing behaviours.
Whittard of Chelsea
As well as reducing plastic usage across all of its products, Whittard of Chelsea is encouraging customers to recycle or compost its products wherever possible – all of its packaging is clearly labelled for ease, bring a caddy or reusable container into store to top up your tea or coffee, and visit its Tea Bars with a travel mug and receive 30p off your drink.
Other
GoBoat
GoBoat has a fleet of eco-friendly vessels in Canary Wharf, meaning that you can explore the Docklands from a fresh perspective without having to worry about the environment. Powered by low-emission electric motors, each boat hull is made from 80 per cent recycled PET, which translates to some 600 plastic bottles, meaning that you can enjoy a guilt-free day out. Oh, and don't forget to bring a picnic (packed full of delicious vegan treats, of course) to enjoy on top of its eco-friendly picnic tables, made from sustainably sourced wood.
LAP Bikes
LAP Bikes' vision is sustainable in itself, in that it aims to make bicycles the main transportation in a city, creating a greener and healthier environment for everyone. Selling high quality road, city and e-bikes, the specialist premium bike retailer also has a service station, offering everything from a basic to a full service, to ensure bikes last longer, which has a further positive impact on the environment.
The Post Office
The Post Office is one of the largest retail networks in the UK, and as well as looking at its social responsibility – such as implementing biodegradable plastics in its supply chain and improving its recycling regime to minimise the waste sent to landfill – its fleet team is trialling new electric vehicles for last-mile deliveries in residential areas in an effort to further reduce its carbon emissions.
Rockar Jaguar Land Rover
Its sustainability strategy Reimagine is designed to create a new benchmark in environmental, societal and community impact for a luxury business. In the next five years some of its plans include welcoming six pure electric variants, with the first all-electric model arriving in 2024. Other ambitions include Land Rover's aim to achieve net zero carbon emissions across its supply chain, products and operations by 2039.
Ryman
Ryman offers a range of green initiatives including its pen recycling – so far it has collected more than 1,000,000 pens which it converts into charity donations. Meanwhile those who wish to buy new can shop its eco range of stationery. It also offers a SodaStream gas exchange service and recycling, as well as battery recycling.
Conscious Cuisine
Responsible sourcing, compostable packaging, saying no to single-use plastic and coming up with clever ideas to avoid unnecessary waste: these are just some of the ways that our restaurants, cafes and bars are making positive changes. To play your part in a greener future, visit these places for everything from breakfast to supper and in between.
Eating & Drinking
640 East
640 East has been made from upcycled shipping containers, and it has also partnered with local London craft coffee producer Caravan Coffee Roasters, who source and roast the world's best beans from single farms and speciality estates in Ethiopia, Colombia and Rwanda. The team also hand-selects pastries from a range of local suppliers.
The Alchemist
The Alchemist works for the not-for-profit social enterprise Carbon Free Dining. By adding a discretional 99p on to every bill, it guarantees to plant a fruit tree in South Africa for every bill paid. So far it has planted more than 107,000 trees, and it even has its very own dedicated Alchemist Forest.
Badiani Gelato
Badiani Gelato is a zero-plastic company: all of its packaging is compostable. It also has a laboratory that takes a close look at its sustainability to make sure its offerings are as ethical as they can be, and it invested in a system that constantly reuses the same water to ensure the correct functioning of the machines, meaning that there is no wasted water. It buys its products locally to support local farmers, respects its neighbourhood and limits transport movement.
Bird at Wharf Kitchen
Making its offering of chicken and waffles even more enticing, all of Bird's poultry is sourced in the UK from a single family-run farm in Yorkshire, which is now served in plant-based compostable packaging for both dine-in and takeaway options. Pick up from Wharf Kitchen in Jubilee Place.
The Breakfast Club
The Breakfast Club doesn't use any palm oil and where possible it doesn't use airfreighted goods, while it also recycles its food waste into energy. Sustainable and locally found where possible, all of its animal products are UK sourced and have the BRC certification. What's more, it stocks ethical drink brands including Joe's Tea Co, Karma Cola and Union Hand Roasted Coffee.
BrewDog Canary Wharf
Once seen as the bad boy of the beer world, BrewDog's approach to environmental responsibility is now at the forefront of its operations and it is a certified B-Corp. In 2020, it purchased a 9,308-acre plot in the Scottish Highlands, and in 2022 it began planting its own trees on this land, embarking on one of the largest reforestation and peatland restoration projects the UK has ever seen.
The carbon negative business and all of its brewing by-products are reused as biofuels and fertilisers, meaning that a pint from its extensive draught and can menu at its Churchill Place outpost is that extra bit guilt-free.
Caffè Nero
Since 2016 Caffè Nero has been collecting its used coffee grounds from its 122 stores in London for processing into fuels which power biomass boilers. It is passionate about plastic reduction and grew its existing partnership with KeepCup in June 2018 to ensure that KeepCups are available in every single store, and it encourages the use of these reusable cups by offering two stamps per coffee on its loyalty card or via its app.
Chipotle
Chipotle's chairman and CEO Brian Niccol says "I, along with the rest of the organisation, strongly believe that how we grow our food is how we grow our future". And the team has clearly put this into practice as in March 2021, it introduced a new Environmental, Social, and Governance (ESG) metric that ties executive compensation to ESG goals. The objectives, which are categorised by Food and Animals, People and the Environment, hold its executive leadership team responsible, with 15 per cent of its officers' annual incentive bonuses tied to the company's progress towards achieving these ESG goals.
Cojean
Cojean donates 10 per cent of its profits to its nourrir aimer donner foundation which fights poverty and contributes to the sustainable development of the poorest communities worldwide. The Certified B Corporation's other initiatives include 70 per cent of its packaging being eco-designed and no animal-derived gelatin used in its products.
Costa
Costa has made a whole host of positive changes, from opening its state-of-the-art roastery that was built with sustainability in mind – where it can reduce the energy taken to roast each tonne of coffee by a huge 30 per cent – to having electric car parking spaces in the roastery's car park. Even its location in Essex was a key factor – being so close Tilbury Docks, its Rainforest Alliance certified green coffee beans now only have to travel 14 miles – halving the original journey distance they used to take to its previous roastery in Lambeth!
Costa's stores have been powered by 100 per cent renewable energy since April 2017, and in a growing number of them and its roastery, it even has on-site energy generation such as solar panels.
Emilia's Crafted Pasta
Making almost everything on the menu themselves from start to finish each morning, Emilia's Crafted Pasta has no additives, artificial ingredients or preservatives in its food; its four eco practices include sustainability, practising regenerative agriculture, using organic produce and having minimal intervention in the natural process. Not only this, but the teamwork with local hand-picked suppliers, and any food that is imported – mainly from Italy – is transported by boat and train, rather than by plane.
Gaucho
Aware of the high environmental impact of its beef production, Gaucho is part of the Sustainable Steak Movement, which was launched in alignment with COP 26 to accelerate the transition towards a carbon conscious beef offering in its restaurants across the UK. It is working with its suppliers and accredited bodies to measure, offset and reduce the carbon footprint of its cattle by 2025 and is aiming to achieve net zero carbon emissions across its business by 2030.
Greggs
Known for its delicious pasties and cakes, Greggs has shops all across the UK and takes its environmental responsibility seriously. It has a bold ambition to be net zero by 2040 – ten years ahead of the current UK Government plan and is building eco shops for the future and retrofitting its existing outlets, taking initiatives to reduce plastic and waste, saving on energy and has partnered with Refill UK to provide free drinking water to customers wishing to refill their own bottles.
Hawskmoor
Hawksmoor is a carbon neutral restaurant group and has been awarded a maximum 3* rating from the Sustainable Restaurant Association for the 12th consecutive year.
And over the years it hasn't necessarily talked about the work it does behind the scenes, which ranges from 100 per cent of its food waste being sent to anaerobic digestion where it's turned into biogas, or the oil used in its chip fryers being used to power vehicles. It has also switched the entire company over to green energy, reducing its footprint by the equivalent of taking 103 cars off the road, planting 8,000 trees or switching 18,000 lightbulbs to LED.
As well as all of this, it offsets its direct and indirect emissions with carbon credits funding projects including cookstoves for coffee farmers in Ethiopia, The Myanmar Stoves Campaign, The Nicaforest Program and the Brazil Nut Concessions in Madre de Dios, to name but a few.
Humble Grape
Humble Grape's shelves are stacked with around 400 sustainable wines imported directly from their cherished "Hero Producers". These independent winemakers are from small-production, family-run, organic vineyards around the world and champion biodynamic, organic and / or sustainable winemaking. When it comes to food Humble Grape serves some of the best seasonal and organic produce while driving sustainability and a nose to tail approach to cutting waste. Vibrant vegetables used in the plethora of plant-based dishes are supplied by Natoora, a company committed to revolutionising the food system. Seafood is supplied by Marrfish who make fishing more sustainable by promoting underutilised British species of fish; using smaller day boats; and even helping to clean up our oceans by carrying large litter bags on board. 
Island Poké
Sustainability is written into the very DNA of Island Poké in Crossrail Place, with founder James Porter overseeing every aspect of the supply chain, from its sustainably caught fish to its new biodegradable poké bowls made from sugar cane pulp. It holds the claim to fame of being the first outfit in Europe to serve a vegan tuna poké and is continuing in this vein with an ever-expanding vegan menu. It only sells drinks in recyclable cans or glass, and its paper bags and bowls are 100 per cent biodegradable.
Joe & The Juice
Hailing from Copenhagen, Joe & The Juice offers a slice of Scandi culture not only through the décor of its establishments but also in its commitment to sustainability. Its goal is to beat its current target of only generating two per cent food waste, and it has also introduced bowls and straws made from sugar cane by-products. Its range of vegan shakes are not to be missed too; pick up from its Churchill Place store.
Le Pain Quotidien
For 30 years, Le Pain Quotidien has been serving up plant-based food and drinks within its bakeries. As part of its small steps campaign – and as part of its journey to have a minimal impact on the environment – it is a member of the Food Made Good Member of the Sustainable Restaurant Association, accelerating change towards an environmentally restorative and socially progressive UK hospitality sector.
As well as this, just some of its initiatives include its menus being printed on recycled paper, choosing organic ingredients sourced mainly from local suppliers and offering its used coffee grounds on a complimentary basis for its customers to use in their garden, for their skincare or to clean kitchen utensils – just some of the uses of this by-product.
Marugame Udon
A member of the Sustainable Restaurant Association, Marugame Udon's philosophy is to 'do the right thing' and runs its business in an ethical and responsible manner with its policy concentrating on people, nutrition and health, communities, environment and responsible sourcing.
MMy Wood Wharf
From the creators of Mercato Metropolitano (MM), MMy Wood Wharf specialises in artisanal, natural and sustainable food in a community market format. Founded on the understanding that each local community needs a centre of aggregation around food, social values and sharing experience, the elements of inclusiveness, sustainability and healthy lifestyle remain at the core of the offering.
It partners with social entrepreneurs who care about sustainability, quality, traceability and ethical production just as much as it does. Thinking globally but acting locally, it has been regenerating forgotten urban areas with ideas and investment to revitalise the community; providing and supporting start-ups involved in local initiatives and providing free cooking classes and free school meals.
Natural Fitness Food
All of Natural Fitness Food's cups used on its sites are made from paper and are fully compostable. The lids might be a plastic look-alike, but they are actually made out of compostable corn. The brand is further eliminating the amount of single use plastic by only offering compostable cutlery, also made out of corn, and biodegradable paper straws.
It also encourages customers to bring their own shaker or cup for their shake or coffee and as a thank you they get five per cent off their drink.
Neat Burger
Neat Burger is the first of its kind. Ethical, sustainable and delicious, the planet-friendly plant-based full-flavoured game-changer has even been backed by Lewis Hamilton. Not only this, but the eatery also works in association with The Eden Project, and for every product sold, a tree is planted – so your positive impact is doubled with every purchase.
Notes Coffee
According to The World Economic Forum, humanity needs to plant one trillion trees around the world within this decade to fight climate change, so Notes has joined forces with Daterra, a carbon-neutral and climate-positive coffee estate which is taking part in the Tree_llion Project, with the aim of planting three million trees in the next 10 years. The Notes Roas-tree Club has committed to planting one tree for every 20kg of green coffee beans it sells and ensured the seed production and management care for each tree for the next 10 years, and so far, it has planted 1,019 trees.
Other sustainability drives include customers getting 30p off a hot drink if using a reusable cup, serving takeaway drinks in fully compostable cups and offering fully compostable and biodegradable coffee pods, and finally, its House Espresso – Blackwall Estate – comes in 100 per cent compostable packaging.
Ole & Steen
Ole & Steen continuously works hard to ensure it minimises food waste where possible, with much of its leftover bread and pastries being reused in other products, for example, its leftover bread can be used to make bread cream, a starter for new breads.
In another pursuit to cut down on waste, it has a partnership with leading food waste platform Too Good To Go so that surplus baked goods are eaten and enjoyed rather than wasted. Simply download the free Too Good To Go app and search for your nearby Ole & Steen. Customers can then purchase a 'Magic Bag' for £5, collect it at an allotted time and enjoy it – these bags contain a variety of leftover treats, from Cinnamon Socials to loaves of fresh bread – and would be worth at least £15 if sold at normal retail price.
Paul
Paul is consistency making changes to makes its business greener. Just some of these include reducing plastic across its portfolio, saving thousands of meals from going to waste and supporting fantastic charities and causes to help pave the way for a happier and healthier future.
Poké House
Poké House's proteins are non-GMO with no added antibiotics. Its sashimi grade seafood and locally sourced fruits and veggies are delivered and prepared fresh every day while its bowls the meals are served in are made from 100 per cent biodegradable corn or plant fibre. Its focus on sustainability is one of its priorities and is thoughtfully reflected in its restaurants, where reclaimed wood is used in its décor that is sourced from certified fair-trade vendors.
Pure
Living up to its name, Pure takes its environmental responsibility seriously. Across its sites including Cabot Square, customers are incentivised with a 50p discount to bring a reusable cup for their coffee and for those who don't have a one to hand, can buy one of its collapsible, reusable cups in any store. What's more, it doesn't charge extra for plant-based milks and its blend of 100 per cent Arabica coffee is Rainforest Alliance Certified, locally roasted and then ground to order.
Three quarters of Pure's dishes are vegetarian and over half are vegan, and it uses British beef, free range British chicken and Scottish salmon across the remainder of its menu. It also sends zero waste to landfill and a water refill station offers both still and sparkling varieties for free.
Shake Shack
Shake Shack prides itself on sourcing premium ingredients like 100 per cent antibiotic- and hormone-free proteins – beef, chicken, and pork – which are vegetarian fed, humanely raised and source verified. Additionally, it has remained committed to using cage-free eggs in all its food, its buns are non-GMO, and its vanilla and chocolate frozen custard recipes are made using only real sugar and milk from dairy farmers who pledge not to use artificial growth hormones.
Its Shacks feature reclaimed, salvaged, and certified materials, including impressive tables made from old bowling lanes!
Shutters
Shutters is making simple changes to be part of something bigger. Think locally sourced products, reduction of plastics (with nonsingle use), waste recycling, roasting its own coffee and only purchasing line-caught seafood.
Seoul Bird
Seoul Bird sources its produce as locally as possible to reduce carbon miles on supply chains, takes an active role in recycling, uses environmentally friendly packaging and eliminates single-use plastics and non-recyclable items. In its restaurant, it maintains and upgrades equipment to be energy efficient and enforces energy saving habits by controlling the water, gas and electric usage.
Smashing Plates
Smashing Plates's founder Neo says of his restaurants: "The menu is seriously fresh and totally traceable. I know where every ingredient in every product has come from." Not only this but the group strives to reduce its environmental impact through its packaging – which is biodegradable or at least compostable – while its used cooking oil is turned into biodiesel.
Starbucks
By 2030, Starbucks will aim to reduce carbon emissions by 50 per cent; reduce waste sent to landfill from stores and manufacturing by 50 per cent, drive a broader shift toward a circular economy and will also conserve or replenish 50 per cent of the water currently being used for its direct operations and coffee production. It is also putting more plant-based food in its eateries and selling and encouraging reusable cups.
Sticks'n'Sushi
Sticks'n'Sushi has a range of sustainability drives including printing some of its menu and information cards using a CO2-neutral printing company. They use certified paper, and the ink is chemical-free and completely biodegradable; apparently it is so clean that you can even eat it (although not recommended!).
Its fish is 'caught with compassion', its takeaway boxes are recyclable, it has switched to paper straws and napkins, and it is going one step further by trying to reduce the amount used.
Urban Greens
Creating honest food the way nature intended, Urban Greens uses locally sourced produce where possible and its packaging is fully recyclable. It is also striving to keep improving its sustainable practices including reducing its carbon emissions and keeping its ingredients local – so as well as the food tasting amazing, it also looks after the planet too.
Veggie Pret
Veggie Pret is 100 per cent meat free, and its alternative milk choices in both this Pret and the others in Canary Wharf are always free of charge. And those with their own reusable cup get 50p off all of its hot drinks.
The Vurger Co. At Wharf Kitchen
Savour plant-based fast food that's good for the soul and the planet. At The Vurger Co. everything on the menu is 100 per cent vegan and all of its packaging is made from plants, meaning that nothing goes to landfill. Its menu not only generates a tiny fraction of the greenhouse gas emissions that a regular fast-food menu does, but it also uses a minute amount of resources in comparison to red meat.
Wagamama
In October 2021 Wagamama CEO Thomas Heier said of its new menu: "This launch marks an important moment for us as a business, as we officially make our menu 50 per cent plant-based. We've been making choices, both big and small, to tread more lightly on our earth."
As well as making the food environmentally friendly, Wagamama is also tackling food waste, introducing solutions to eliminate plastic and sustainably sourcing of all of its essential branding materials including uniforms, placemats, menus, chopsticks and napkins.
Wahaca
Wahaca has implemented a trio of initiatives to make it more sustainable – it went carbon neutral in 2016, stopped using single-use straws in 2018 and only sources meat from animals in the United Kingdom that are solely fed on a natural diet. It serves free-range chicken and pork, grass-fed beef and MSC certified fish, and has also launched new sustainable dishes such as Wahacamole, Wahaca's eco-friendly take on guacamole, made with British organic fava beans, coriander and lime, as an easy planet-friendly switch.
More than 50 per cent of its dishes are vegetarian and it takes lots of steps to minimise the resources it uses across its restaurants, from the initial build to the heat and water used.
Wasabi
As well as making sustainability changes across its organisation, Wasabi has pledged to make 90 per cent of all of its UK business packaging reusable or from widely recyclable or home compostable materials by the end of 2024.
Yumtea
As a small and independent business, Yumtea is trying its best to achieve a net zero footprint. Its shop fit-out has been built with sustainability in mind and is as eco-friendly as possible, with earth materials used for its wall and counter covers, along with clay plaster, sourced from Cornwall.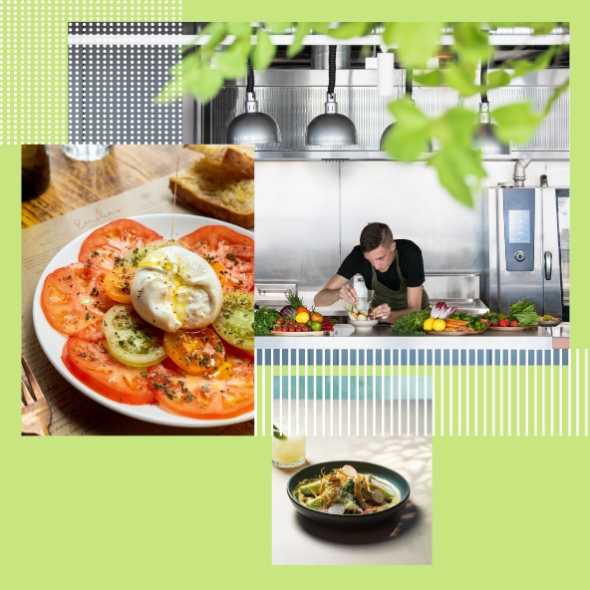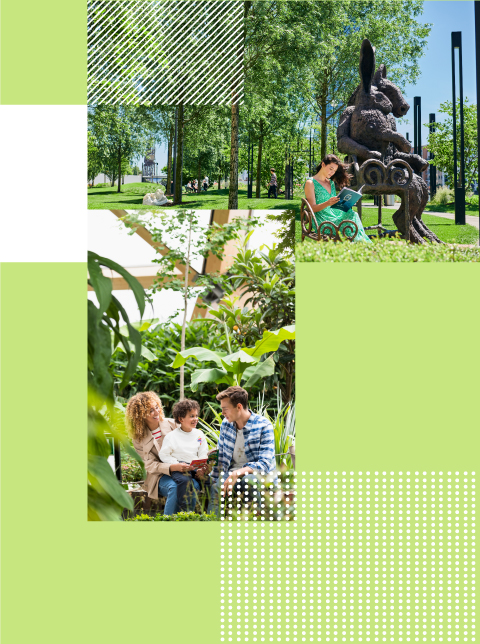 And Breathe…
Find your favourite green space, whether it's a lush park, fountain-filled square or blooming garden – Canary Wharf is home to hundreds of trees, shrubs and seasonal plants. Go for a waterside walk, reconnect with nature and see if you can spot some of the many animals and insects that call Canary Wharf home: bees, birds, bats, ducks and more.
Discover Open Spaces on our Estate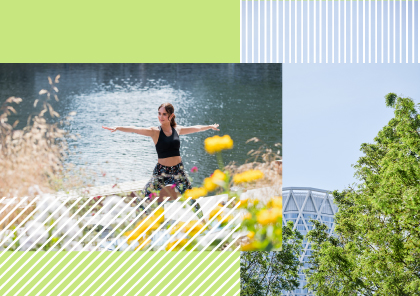 Our Approach
Being conscious about our impact on the natural world is a big part of our green planning and there are many ways we're proud to lead by example. Initiatives like Breaking the Plastic Habit and our Biodiversity Action Plan are designed to make a difference not just now but well into the future.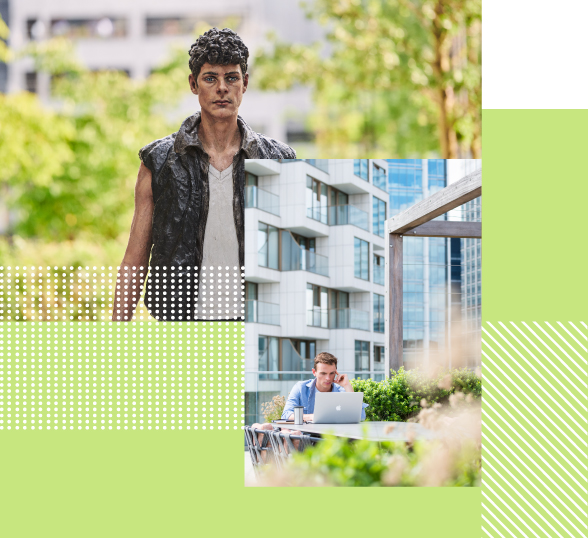 What the Locals Say:
"I always have my reusable bottle on me because I'm never far from a water refill station. And I admit to a latte habit so I'm really glad the cups and lids are all recycled. The coffee grounds are too? Even better!" – Fiona
"Being in green spaces like Jubilee Park makes a huge difference to my mental health. I love going for runs and walks along the river and boardwalk." – Dmitri
"My kids and I go on wildlife walks: we've seen ducks, bees, birds and – the highlight – a seal. Next on our list is a night-time walk to look for bats and owls!" – Zain