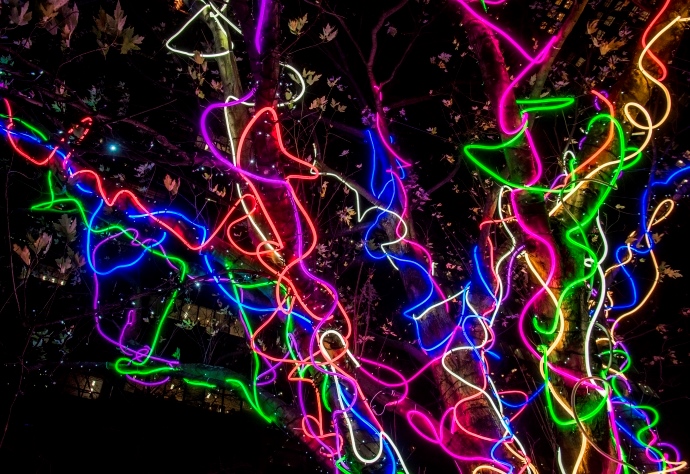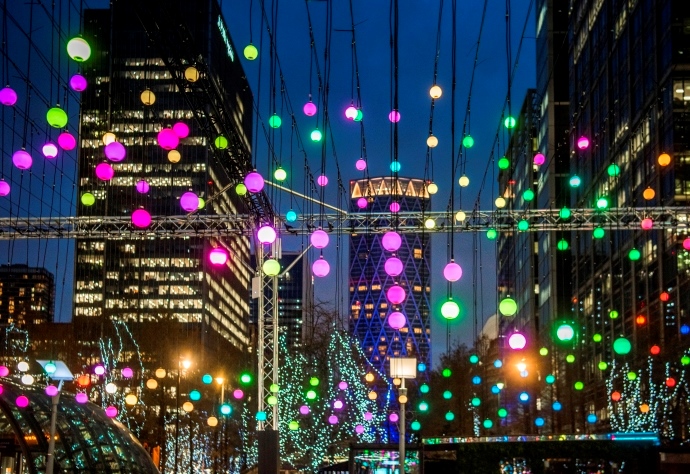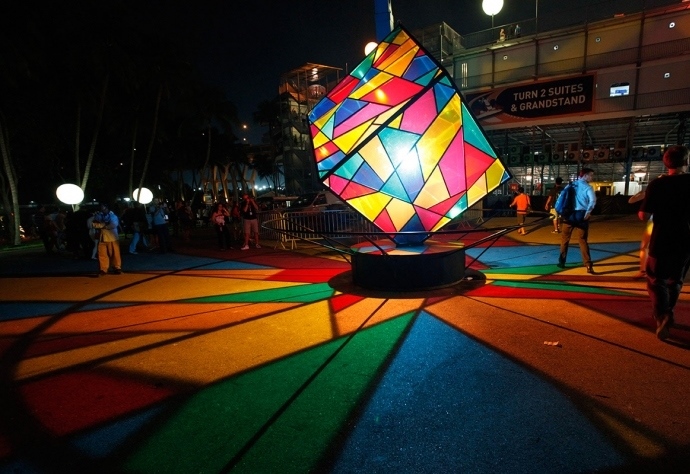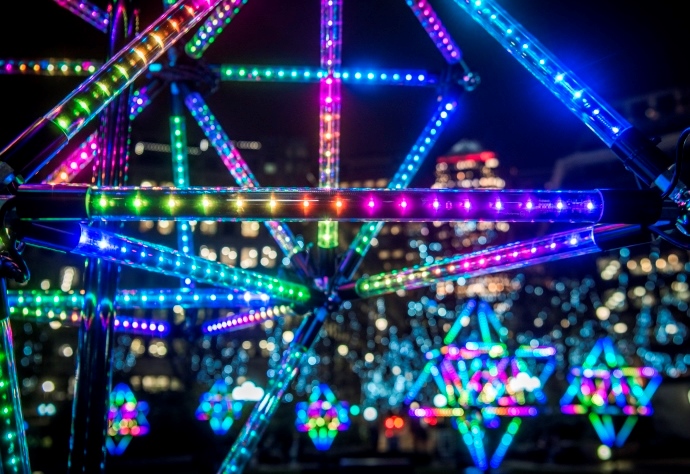 What's On
What's On in Canary Wharf this Winter
Canary Wharf is making the nights that much brighter for those who are after some socially-distanced entertainment
14 December 2020
Set against the backdrop of this iconic part of London's skyline, Connected by Light is a key activity for those looking for things to do in London. This immersive outdoor experience showcases some of the UK's best light artists and is further enhanced with an additional eight lit-up artworks alongside the Estate's long-standing public art collection.
Running from dusk to 10pm daily until 27 February 2021, the entrancing works captivate and inspire the imagination and while some of them can be viewed during the day, they are at their most spectacular at night. Designed to be admired from afar to allow for plenty of space, the luminous artworks can be found glowing across the Estate's parks, gardens, squares and open areas and make a fun activity for all the family to take part in this season. Visitors can pick their own path on arrival or plan ahead with this interactive map.
Highlights of the new installations this year include The Stories Under Our Feet by Elisa Artesero, where disappearing text falls from benches across Jubilee Park and clusters into poems that paint the path beneath, with the dream-like words encouraging moments of contemplation, connection and wonder. Meanwhile Canada Square Park is lit up with the Neon Tree by Hawthorn, while his second installation Newfoundland Reflections showcases a dazzling display of lights from the 60-storey tower that are reflected in the waters below. Elsewhere, artists Baker & Borowski bring Alice in Wonderland to life with Curious Fluorious, which features giant sculptural pieces dotted throughout Crossrail Place Roof Gardens.
In between gazing at the new Connected by Light exhibits, visitors can also admire what is the UK's largest outdoor permanent public art collection, with more than 75 sculptures and 52 installations adorning the Estate. It includes favourites such as Captivated by Colour by Camille Walala, who has revamped Adams Plaza Bridge with eye-catching geometric optic illusions that play with peoples' perceptions of distance as they walk through the tunnel. This exhibit is also part of the ongoing Children's Art Trail, which provides big inspiration for little minds. Download a map and find 12 artworks on the Estate for cultural inspiration aplenty for the younger generation. For further activities to do with little ones, check out our online Children's Old Flo Quiz & Artbook where you can learn all about this famous sculpture situated in Canary Wharf.
With so much to see, make sure to wrap up warm, grab a hot drink from one of the many cafés on the Estate and head out for a stroll with a difference this winter.
And, if you're looking for even more activities to do in London this Christmas, you can soak up the festive and community spirit at the annual Carols & Candles service where the children from St. Luke's Church of England Primary School will be singing along with choirs from some of the businesses in the district. The evening will be streamed online at 5.30pm on Tuesday 15 December. Pre-register online for your free place.
Furthermore, with up to three hours of free parking in any of Canary Wharf's car parks available to those who spend £10 at any of the Estate's cafés, restaurants, bars and shops, there's even more reason to take your time and enjoy the sights.