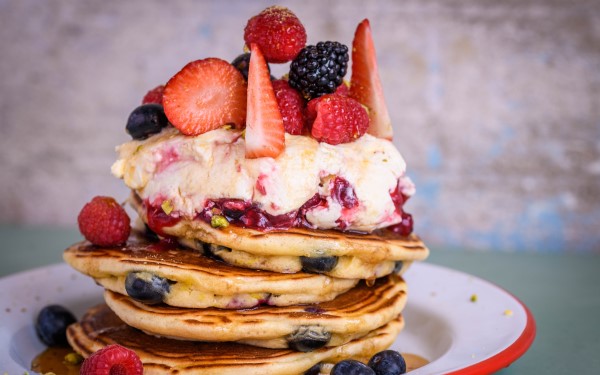 Eating & Drinking
Stacks of Fun: Pancake Day in Canary Wharf
With Pancake Day just around the corner, we take inspiration from around the globe and get a helping hand with create-at-home recipes and delivery options at Canary Wharf
10 February 2021
Pancake Day – also known as Shrove Tuesday – marks the 40-day run-up to Easter and this year takes place on 16 February. Preceding Ash Wednesday, the start of Lent, the Christian celebration is traditionally a time for indulgence, when people feast on the types of food that they would subsequently give up until Easter. However, for many, it is also an excuse to whip the frying pan out and use the store cupboard ingredients of flour, milk and eggs to whisk up a pancake batter. And once you've mastered the perfect flip – just try not to hit the ceiling with your creation – top with your favourite ingredients; from super sweet lemon and sugar to dollops of Nutella, or savoury options such as ricotta or sour cream, there's a combination for every taste.
With the whole world still somewhat flipped on its head, why not mix up your whole pancake menu and not just your batter mix – here's our pick of five worldwide favourites to get you started…
America
Stacked on top of each other, these fluffy pancakes are ideal for those in a large household bubble, families or simply those who love pancakes, as you can cook a few in a pan at the same time. Usually served for breakfast or brunch with fruit, jam or rashers of crispy bacon and drizzled with maple syrup, they make a decadent (and filling) way to start the day.
Whilst we're all at home this Pancake Day, why not try making The Ivy in the Park's buttermilk versions with berries and strawberry sauce with this recipe? Or if you fancy a jazzed-up versionThe Breakfast Club has two 2021 specials: Damn Fine Cherry Pie and Mississippi Mud Pie; order online for delivery.
France
There are two types of French pancakes – sweet crêpes or savoury galettes – both of which are thin and originate in Britany in the west of France. They can be enjoyed in their simplest form, with a sprinkling of sugar on the sweet creations, to the more elaborate cooking methods such as flambée.
These versions have been so popular that they quickly transcended borders – Badiani Gelato has showcased its crêpe recipe by owner Paolo Pomposi which can be topped with fresh fruit such as banana or strawberries and served with its premium sauces of hazelnut, pistachio or caramel.  You can buy the basic ingredients from Marks & Spencer Simply Food, or alternatively if you're short on time, there's always ready-made back-up options of chocolate-filled crêpes from Tesco Metro.
Italy
Named 'Crespelle', Italian pancakes were once considered a poor person's food but now feature on the menu in many of the country's top restaurants and are not only eaten on one particular day, but throughout the year. Although not selling 'Crespelles' themselves, Italian bakery Cafe Brera is known for its vanilla pancakes, which can be collected both hot in-store, or in takeaway packs of six or try out their recipe at home – just what you need whilst we're all staying at home
Russia
Blinis originate from Russia and these small, thick savoury pancakes are traditionally served warm and topped with soured cream, smoked salmon and a sprinkling of dill, and are the ideal canapé or starter. Try your hand at making them with ingredients from Waitrose & Partners – which also has a yummy recipe for vegan coriander hummus and beetroot blinis online – or the supermarket also sells ready-made packs of blinis for ease.
Denmark
Known as aebleskiver, these bite-sized little puffs of pancakes are a Danish dessert and are cooked in a special stovetop pan that they are served directly from whilst warm. Best enjoyed with a side of jam and powdered sugar for dipping, they are also traditionally accompanied with a side of glogg at Christmas. For further inspiration and ideas for Danish pastries and desserts, check out Ole & Steen's menu.
Any finally, whether you're looking to broaden your pancake horizons, or stick with your traditional favourite, when making the perfect pancake it's important to have the tools of the trade. Purchase mixing bowls, whisks, pans and spatulas from Robert Dyas. Meanwhile presentation is just as important; serve the creations on beautiful plates from the homeware sections of Oliver Bonas or The White Company for a Pancake Day to remember.
Discover more at canarywharf.com