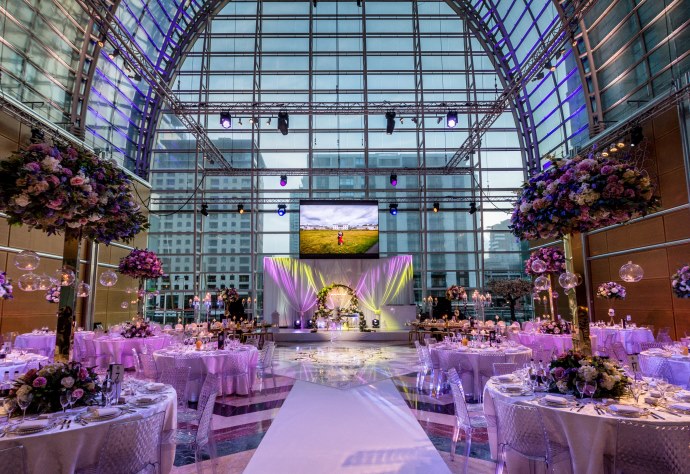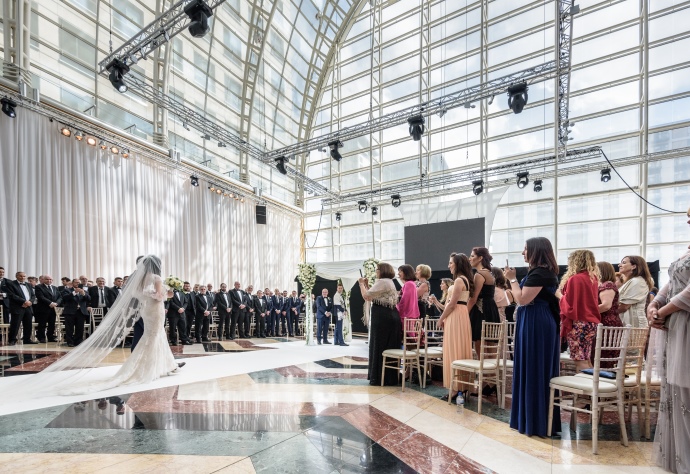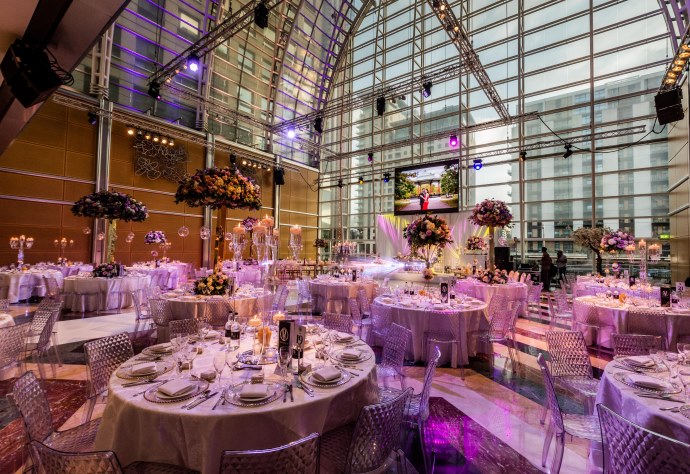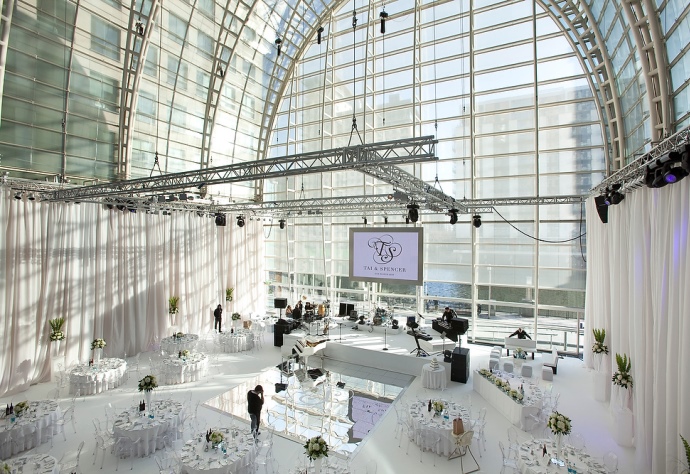 East Wintergarden
Say 'I do' to East Wintergarden's New Wedding Package
Whether it's a wedding reception, civil ceremony or partnership, our unique venue in Canary Wharf is the perfect match.
3 December 2020
It's the three words we have all been waiting to hear: weddings are on!
Civil ceremonies, religious ceremonies and wedding receptions can commence here at East Wintergarden, there are just a few precautions we need to bear in mind. 
Following the new three-tiered system the Government put in place, wedding receptions and ceremonies can take place with no more than 15 people present.  The government guidelines confirm that even if an area is placed in tier 3, wedding ceremonies can continue to take place however, in this tier receptions are not allowed. 
This magic number of 15 is the maximum amount for all attendees at the event, including the couple and guests.
It might sound a little different to the special day you had originally planned, but we can still make it a day to remember.
Weddings at East Wintergarden
The Main Hall is a large contemporary space that is a versatile blank canvas – ready for you to make your own. Flooded with light thanks to its arched glass dome and made up from more than 100 windows, boasting panoramic views of Canary Wharf our wedding venue in London was made to wow.
If an Insta-worthy London skyline backdrop is what you're after, then you'll love the Gallery, which is our second biggest space. It's nestled between floor-to-ceiling windows and offers unbeatable views of Canary Wharf's landscape. It can host up to 15 guests for a civil ceremony. 
Or, if you desire some intimacy, you can still enjoy the views of Canary Wharf's dockside in our light and airy Promenade Room, which can accommodate up to 7 people for a civil ceremony. 
Wedding ceremonies venue package
Our new wedding ceremonies venue package can be tailored to suit you. Prices start from £1,000 +VAT and include:
Celebratory sparkling drink for your guests 
Standard furniture to include chairs
Event staff to include a duty manager and cleaning operative
Complimentary parking for two bridal vehicles
Bridal changing room
Background music
Holding slide LED screen
House lighting
Exclusive hire of East Wintergarden for two hours
Ceremony to take place by 31st March 2021
Venue Hire fully redeemable against your 2021 Wedding Reception booking
If you'd like to extend your venue hire, with this package additional hours at East Wintergarden are charged at £500 +VAT per hour.
The optional add-ons to make your day perfect
We all know a wedding is about two people. But it's also just as much about the flowers, photographs and finishing touches. We regularly work with a range of suppliers, all of whom have put together a variety of packages to help make your special day just that.
Wedding photography
Capture all those unforgettable moments with photography by award-winning wedding photographer, David Christopher. From £850 this package will include:
4 hours of photography
Up to 200 photos with fine art edit
Private online gallery
Documentation of your day
Couple photos and group photos
Getting ready photos (if required)
Falling Snow
There's nothing quite like the magic of snow. Make it a winter wedding to remember complete with our falling snow service, priced at £450 +VAT.
Wedding flowers
Flowers have the power to add a personal touch to any wedding. But with so many styles, arrangements and colours to choose from, why not have help from the best? From £600 +VAT you can have a variety of arrangements from RB Floral Design. This includes:
A wedding bouquet
Selection of button holes, corsages
Main display on plinth or registrar's table
Aisleway flowers
Live stream your wedding
This is a great way to extend your guest list virtually and have a recording to look back on for years to come. From £1,100 +VAT this includes:
A stream technician
Stream laptop and backup system
Camera operator and one camera
100 participants
External recording of Zoom mix
Luxury unboxing for virtual wedding guests
Whilst a handful of your guests might not be able to attend your wedding in person, they'll be there in spirit thanks to our luxury unboxing experience. Costing £60 +VAT per box, guests will receive pre-delivered boxes to open and enjoy during the ceremony. Options for contents includes:
Handwritten message from bride and groom
Sparkling drink
Popcorn
Chocolates
Personalised candle
Glass tumbler
Acoustic music performance
We can't forget the music! From £500 +VAT you can have a musical performance expertly curated by London-based organisers, Stormont Entertainment. Options range from a solo harpist, guitarist, pianist and vocalist.
Silk Aerial Artist
Add a different type of wow-factor to your big day with a solo aerialist silk performance. Prices start from £1,600 +VAT.
Safe-site visits around East Wintergarden
Interested? Then let the wedding planning commence! We're offering  socially distanced safe-site visits here at our Canary Wharf venue for a chance to look around our amazing spaces.
 A member of our events team will be able to meet with you and take you on a guided tour of the three different spaces, whilst answering any questions about what your dream wedding could look like.
All visits include social distancing measures and venue staff will be wearing masks.
Get in touch today to start planning your wedding or to book a safe-site visit. Pre booking will be required.
You can also read about Canary Wharf's award-winning light show Let There Be Light here.