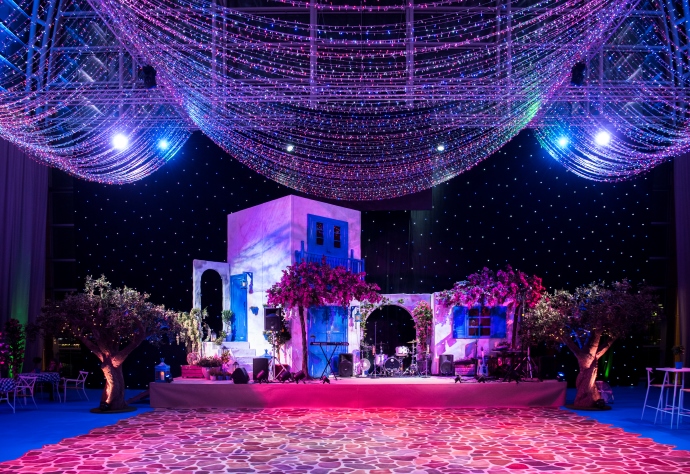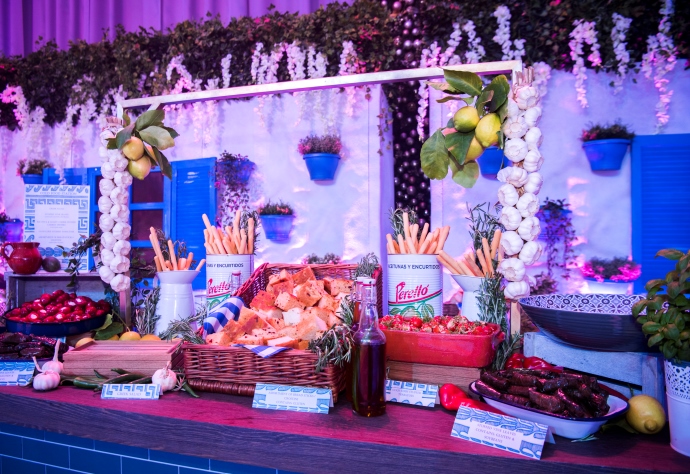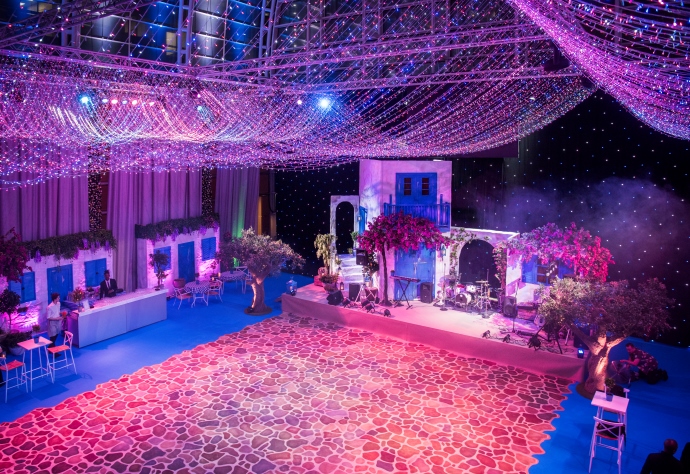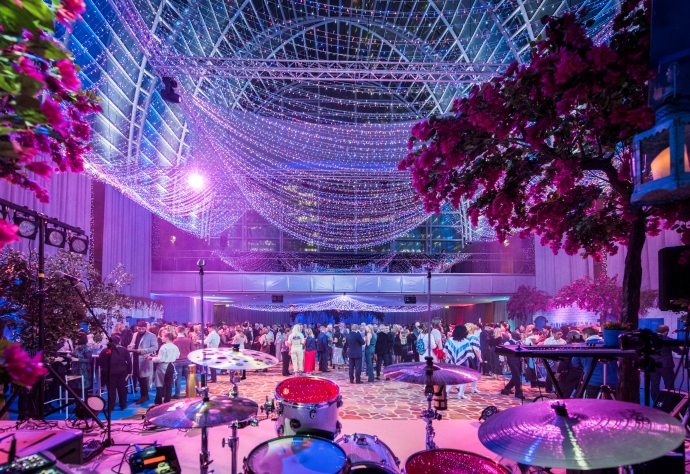 East Wintergarden
Parties of Christmas past: Mamma Mia-inspired Corporate Xmas party
Our iconic Canary Wharf venue was the ideal party place for this ABBA-inspired Christmas do
9 December 2020
'Tis the season for Christmas parties. But whilst we're unable to host any large-scale festivities this year, we wanted to look back on some of the previous Christmas do's we have held at our Canary Wharf venue.
So, in the run up to the 'Big Day', we'll be reminiscing over the most wonderful times of the year at East Wintergarden.
Corporate Christmas party
First up is our Mamma Mia-inspired corporate Christmas party we held in December 2019.
This wasn't just your average Christmas event. This was everything and more. The client's brief was to 'top every party previously held' and create a surprise theme that would 'wow and fully immerse guests through food, entertainment and dressing of the space'. It also had to have a fun fancy dress-up theme for the guests.
To make sure it ticked all the boxes, we called in some help from a range of suppliers we work with. Caterers, Food By Dish, created a Greek inspired menu including stuffed vine leaves, moussaka, spinach and ricotta spanakopita and traditional baklava. Entertainment from ABBA tribute band, ABBA Chique, saw guests unleash their inner Dancing Queens.
But of course, what really helped to transform our large Main Hall was the incredible bespoke made double-storey stage set, just like the Mamma Mia! film and musical stage show.
To create this magical Mediterranean set-up, we worked with Event Prop Hire, who since 2003 have been creating, producing and delivering all sorts of unique projects, immersive environments and exciting experiences.
Creating the event set-up
Kitti Edwards, Senior Creative Sales Executive from Event Prop Hire said: "The Mamma Mia Christmas party was a standout event, as it really encapsulated everything our team can do. From bespoke elements and stage sets, right through to the last weathered terracotta pot – it was the full package. It was so fun to transport the guests to Greece for the evening!
"The incredible double storey stage set was inspired by the film and the stage show. We built a 5m-high and 10m-wide set that included two gorgeous archways, steps, a balcony and aged shutter details.
"We replicated the texture of the gorgeous, white-washed buildings so synonymous with the Mediterranean. We then dressed the set with hot pink Bougainvillea trees, olive trees, baskets and weathered blue lanterns – it was truly WOW!
"This set is now back with us at Event Prop Hire HQ and is looking forward to its next outing!"
Dressing East Wintergarden
Our iconic Canary Wharf venue is modelled after the Winter Garden in New York. Its high ceilings and blank canvas-look make it the ideal party venue in London for immersive large-scale celebrations.
Kitti continued: "East Wintergarden is undoubtably a standout venue for us! The sheer scale of the ceilings coupled with all the gorgeous glass makes dressing it a dream. It is so impressive even undressed, so it is a dream to be able to create in there!
"As the venue is such a blank canvas, it really allows us to carve up the space into themed 'zones' as each client requires, making it inherently super flexible."
If you would like to pre-book a celebration here at East Wintergarden, please don't hesitate to get in touch. Our Canary Wharf venue can host a number of corporate events, including parties, awards ceremonies, exhibitions and more.